2022 LP Gas Rising Leader: Andre LeFrancois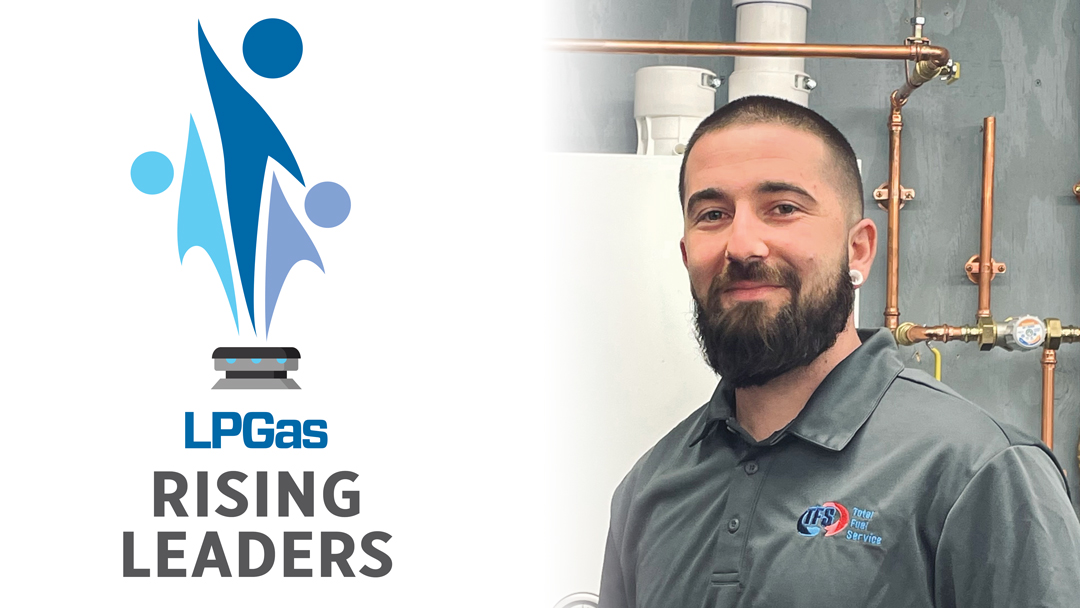 The essentials: Age 31; director of division development and risk engineering at Total Fuel Service in Plainville, Connecticut
Years in the propane industry: 15
How did you get your start in the propane industry? I received my start at a very young age, around 15 to 16 years old, painting and purging tanks after school and on weekends. After high school, I transitioned into an apprentice role and continued to capitalize on as many opportunities as I could as they arose across the company and its other locations until I was service manager. My new role at Total Fuel Service has allowed me the opportunity to continue my growth within the industry, as well as recruit new and young generations to propane.
What is your vision for growing your company, and how can you achieve that vision? To build a company based on trust and transparency with our customers as well as our employees. My goal is to ensure that all of our customers can trust that they will always receive our best possible service provided by highly trained and fully licensed installers utilizing high-quality, new equipment while maintaining competitive and transparent pricing. I aim to implement technology as often as possible to mitigate risk and to ensure fast, efficient service so we can pass those savings on to our customers and employees, as well as implement some of the industry's most comprehensive training that we can. My experience throughout the years has led me to develop the best practices that we use today.
How can the propane industry prosper in the coming years? The propane industry is currently heading in the right direction with the advancements in renewable energy and a more net-zero carbon footprint. With society and the market pushing toward higher-efficiency vehicles, heating systems and appliances, propane has an advantage of being one of the fuel sources that can provide these efficiency levels.
What does your generation offer to the propane industry that previous generations did not? My generation is helping to incorporate technology into the daily operations of the propane business. This could be in the form of electronic tank monitoring systems, digital dispatching or tablets for the delivery trucks and the service technicians, and ensuring that we have access to all of this valuable back-office information at all times in the field, at home at night or when traveling.
What specific technologies are you using (or plan to use) to support business operations? Being a new startup, we have had the luxury to start this endeavor with our best foot forward when it comes to the technologies we incorporate. Some of the technologies we currently utilize are mobile app-based payment systems for our customers, electronic tank monitors on every tank installation, automated delivery forecasting and routing software, as well as live chat and online service scheduling.
What propane industry associations are you involved with at the state and/or national level? The National Propane Gas Association.
Is there anything else you'd like to tell us about yourself, your company and/or the propane industry? I am extremely thankful to be part of this exciting, ever-changing industry and very proud to be leading this company toward providing the best service that we can offer to all of our current customers as well as the ones to come. We have been fortunate to have fantastic growth during 2021 and are excited for 2022. We have welcomed just over 500 new customers in the last few months, as well as several new trucks, drivers and really remarkable employees.
Carly Bemer (McFadden) was the managing editor at LP Gas magazine.