2022 LP Gas Rising Leader: Chelsea Aiken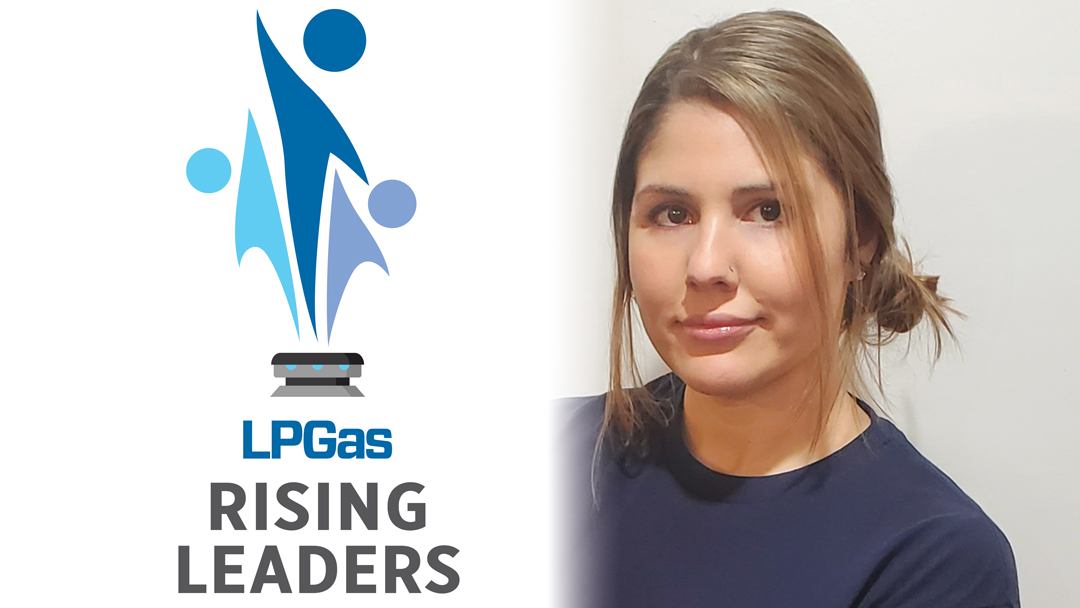 The essentials: Age 31; vice president of High Grade Gas Service in Stafford Springs, Connecticut
Years in the propane industry: 10
How did you get your start in the propane industry? I was born into it. My dad, being the incredibly driven and dedicated man that he is, built this company from the ground up. I remember riding in a bobtail with my dad through tobacco fields in grade school. My handprints are in the concrete right outside our office door. I've done a little bit of everything, from data entry to painting tanks, delivering propane, outside sales – the list goes on. I got my CDL at 26 and my G1 contractor's license at 28.
What is your vision for growing your company, and how can you achieve that vision? It goes without saying, technology has completely changed the playing field in our industry. For us in particular, now coming up on a third generation family-owned and -operated business, the challenge is translating our needs into processes that can be automated or simplified by the technology that already exists. If every company did everything the exact same way, we would all be using the same products and yielding the same results – but that's not the reality. So making the technology "work for us" is key to being able to harness its benefits and keep up with our customer's needs.
How can the propane industry prosper in the coming years? In this industry, it's extremely important to not lose sight of the fact that we aren't just selling a product, we are selling a service. Your best customers will be those who are fully confident in your service. Taking the time to educate our employees, fellow contractors and consumers will instill a sense of trust that is vital to creating a positive working relationship.
What does your generation offer to the propane industry that previous generations did not? The obvious answer is our generation's tech savviness. The younger generation has a tremendous advantage in the knowledge and use of computers, apps, tablets, spreadsheets, etc. At the same time, the younger generation is also becoming the consumer which drives the industry to keep up with the demand for tech-friendly solutions such as the use of apps, online ordering and payments, and interactive websites. However, this industry at its core requires a certain grittiness that is much harder to find in younger employees. Until we figure out how to have a computer drag a hose through 2 ft. of snow, companies will struggle to fill the shoes of the older generation as they retire.
What specific technologies are you using (or plan to use) to support business operations? Our best technological investment to date has been using Otodata tank monitors. We deployed about 2,500 monitors over the course of a couple months in 2020-21. Our delivery efficiency has increased tremendously, and run-outs are almost non-existent. In the last year, we've also implemented a new software system and website, which offer customers the ease and convenience of ordering, paying and accessing their account history online.
Is there anything else you'd like to tell us about yourself, your company and/or the propane industry? The family business dynamic definitely has its unique challenges and advantages. In the winter, it isn't uncommon to put in 80 to 90 hours per week and go weeks without a day off. We're lucky enough to have a team of the hardest-working individuals I'll ever know, doing whatever needs to be done to keep our customers warm and safe. Through deep freezes, blizzards, hurricanes or pandemics, our team shows up and puts in the work. I'm also extremely lucky because I get to bring my Pomeranian, Gizmo, to work with me. He's the best kind of stress relief when things get hectic, and he's a natural when it comes to selling fireplaces to customers in our showroom.
Carly Bemer (McFadden) was the managing editor at LP Gas magazine.