2023 LP Gas Rising Leader: Frank Stapp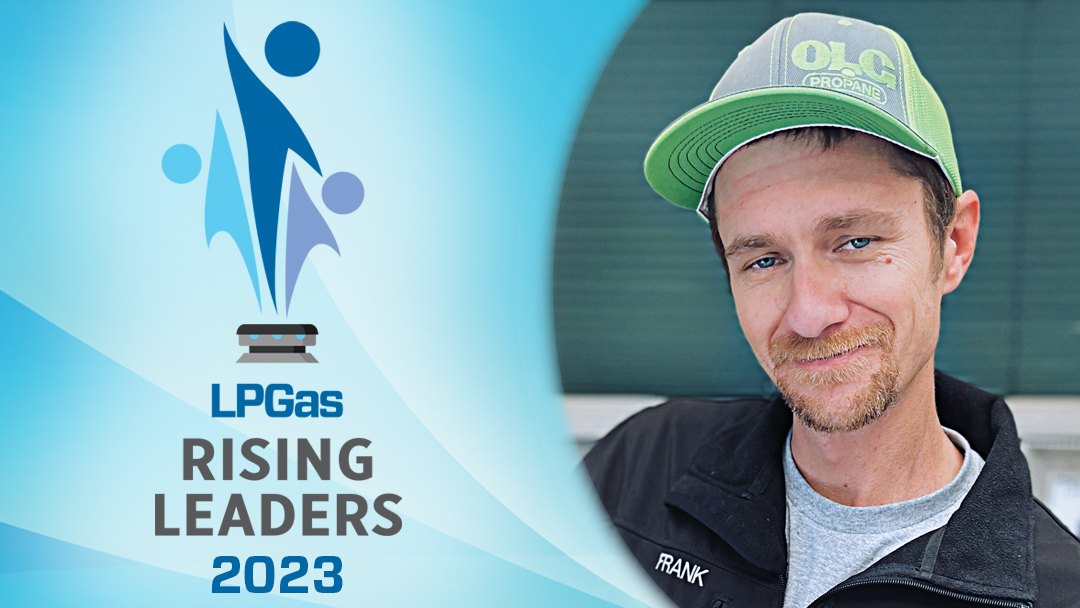 Job title: Manager at Oklahoma Liquefied Gas Co. in Seminole, Oklahoma
Years in the propane industry: 15
How did you get your start in the propane industry?
In 2008, a longtime friend and employee of OLG Propane recommended me to the owner, Ken Green. OLG Propane was in need of a diesel technician, and I had gone to trade school and Warren CAT's ABC program. After joining OLG's team, I learned I would also be doing alternative fuel conversions; I completed my first conversion by reading the manual. After that, Ken introduced me to Gary Shepherd, who taught me more about alt fuels. After a few years, I received my CDL through the Maud Volunteer Fire Department to help with deliveries in the winter, which helped grow my knowledge of the industry and business.
How do you help lead your company in your current role?
Now with 15 years of experience in the industry, I am able to help OLG with everything from deliveries, service, maintenance, conversions, to DOT regulations. I recently took on a managerial role, learning financials and budgets to help our locations stay on target. I have set up on-the-job training with the local vo-tech for internships. They learn about the industry, service, maintenance and conversions. My wife, Krista Green Stapp, even makes me sit in on interviews and the hiring process.
What change would you like to see to the propane industry to ensure its success?
I would like to change homebuilders and owners' knowledge about the safety and benefits of propane. So many people consider it dangerous because of what they see and hear in the news and media. Also, finding a way to bring in younger people to be interested in working in the industry. Many people my age and younger change jobs frequently now because they are looking for the next dollar or title, but there are more freedoms and personal growth opportunities in a family-owned business than a corporate job where you are just a number. At OLG, we truly treat all of our employees like family.
What does your generation offer to the propane industry that previous generations did not?
We cannot reinvent the wheel, but we can improve how it rolls. With the technology out there such as e-commerce, tank monitoring and smartphones, we can be more efficient. I believe my generation is showing ways to improve efficiency and productivity. For example, we implemented routing at the location we acquired in 2020 and have seen a significant drop in fuel cost and wear and tear on equipment.
What specific technologies are you using (or plan to use) to support business operations?
We currently use routing, forecasting and benchmarking tools. We are currently working with RCC to set up an app for our customers to improve our e-commerce presence.
What propane industry associations are you involved with at the state and/or national level?
I have involvement with state associations and NPGA, Oklahoma Alternative Fuels Board, Association of Central Oklahoma Governments. I am certified in both LPG and CNG conversions and have a propane permit in Oklahoma, Arkansas and Texas.
Is there anything else you'd like to tell us about yourself, your company and/or the propane industry?
My wife and I just welcomed our first child, Scotlyn Stapp, on Jan. 14. She is the fifth generation of OLG.
Logo: incomible/musri/iStock / Getty Images Plus/Getty Images