A Propane Personaility: Drew Combs of CHS and PERC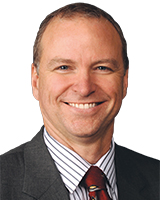 Drew Combs
Chairman, Propane Education & Research Council
Education
Wichita State University
Bachelor's in electrical engineering
Class of 1991
Work Experience
1988-90
NASA's Johnson Space Center
Intern, safety and robotics program
1991-2002
Phillips Pipe Line Co. (Phillips Petroleum)
Project engineer
2002-present
CHS Inc.
Director of supply and logistics
Vice president of propane and NGL business unit
"[With Phillips Petroleum] I was promoted to manage the scheduling operations, which included the movements of propane around the U.S. to our retail customers. At CHS, I was given the responsibility of the propane business unit, managing its marketing, sales, trading, asset development and operations, safety, supply and equipment groups. My organization is very similar to the Propane Education & Research Council (PERC), so it has really given me a tremendous insight as to how the council operates, and the needs of its retailers."
"Concern comes from the ability of the industry to serve and grow its consumer gallons; the intrusion from natural gas, electricity and alternative fuels that continue to erode market share; and the ability to serve with an aging driver workforce and attracting talent. Optimism comes from the new products that are available to consumers – autogas, irrigation, etc. – that PERC has developed to assist in growing gallons."
Combs on…
PERC
"PERC provides tools and resources for retailers, so we need to better align with their needs. In doing so, we see that a regional approach, together with state executives and the National Propane Gas Association (NPGA), must be at the core to better serve and grow our industry. Finally, we need a common goal for the industry. To that end, NPGA, PERC and the state executives are working toward a common long-range plan that will help define what our industry is doing to grow and better serve our consumers."
Propane Supply
"The need to track other industries' supply curtailments that impact our supply of propane is paramount. The need to educate government officials, such as public utility commissions, is also very important, as they do not understand the impact their work has on ours."
Family
Combs, a Kansas native who grew up Wichita, Kansas, has been married to his wife Dana for 37 years and is the father of two children.
Hobbies
Combs enjoys golf and working with cars in his off time. His first build was this 1965 Cobra Replica, which he assembled with his oldest son. Additionally, Combs likes to ride around the country on a road bike and spend time with his children and four grandchildren.

Joe McCarthy is an Associate Editor of LP Gas Magazine. You can contact him at jmccarthy@northcoastmedia.net and at 216-363-7930.