American Standard Manufacturing makes mobile-friendly site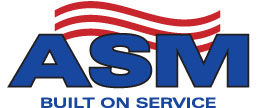 American Standard Manufacturing Inc. (ASM), which manufactures cylinder exchange cabinets and equipment, revamped its logo, advertisements, catalog and website this past winter and spring. The updated website went live this May and is now mobile-friendly.
Krissy Day, administrative assistant for ASM, says the website, which had not been changed for more than 10 years, was due for an update.
"We want our website to be a tool to customers," Day says. "We kept a lot of the same things on the website as before, but it looks smoother and easier to navigate now."
Day says the company kept the logo the same colors and letters, but tweaked its design so it pops out more. The catalog and advertisements were also changed slightly to make them look more modern.
An outside company helped ASM with the changes. Day says the company encouraged ASM to make sure the updated website is optimized for Google searches, including search engine optimization keywords for all of its Web pages.
"This takes time and a lot of work updating a website, but in the end, it's worth it," Day says. "The product you get is a tool for salesmen to use – they can look things up quick from a smartphone. I don't think a website will ever take away from traditional phone calls, but you still want to have a Google-friendly site. I feel you can either embrace changing technology or resist it. But if you resist it, there's the risk of becoming obsolete."