Concerns about heating season preparations
Propane retailers are busy anticipating potential bottlenecks and finalizing winter business plans amid cautions of being caught off-guard and "on thin ice" if severe weather conditions take hold.
"Two 'bad' winters hasn't been good for anybody. There is a level of complacency that is evident after two mild winters," says John Powell, senior vice president and chief commercial officer of Crestwood's Marketing, Supply & Logistics Group.
Powell advises propane retailers to "go back an additional two years and take a look at what a real winter looks like. It would be prudent to review your contingency supply plans with your suppliers for more gallons than you've needed in the past two years," he says. "The downstream markets are going to have to work closely with their suppliers to make sure the contingency gallons are there."
Powell points out that "the markets change much faster today than in the past. Propane is a global commodity. Adjust your supply plan more frequently than you have in the past, as well as your marketing plans with your customers."
Dealing with your accounts means telling those opting for will-call that, according to Powell, "you're going to be challenged on price" as circumstances dictate.
"You need to educate your individual customer. People don't mind paying for value," he says. "Educating your consumer is the best thing you can do. A little bit of a commodity price increase isn't going to change people's demand. They might turn the heat down and buy an electric heater for the next two weeks."
Crestwood augmented its resources by acquiring Turner Gas in January and adding three new rail terminals in Nevada and Wyoming.
"The bottom line for retailers is that if we do get a cold winter it could cause supply disruptions and higher pricing much greater than what we have seen in past years," Powell says.
Daniel Vagasky, senior NGL analyst at S&P Global Platts, says to track how high inventory gets this fall and how cold temperatures get in Europe and Asia.
"I would watch that weekly stock build," he advises. "We'd like to see 90 million barrels in stock by the end of October. We think we can get there, but we might be tight; 78 million barrels to 91 million barrels is our range, but it really depends on export demand."
As of Aug. 11, per the U.S. Energy Information Administration, propane stocks stood at 69.2 million barrels, 24.5 million barrels (26.1 percent) lower than last year.
"Right now, you're looking at 85 [million barrels] as your best scenario. I don't know if 90 is adequate. I don't know if anyone knows what is adequate," says Dan Richardson, president and CEO of Conger LP Gas in Tifton, Georgia, and a National Propane Gas Association (NPGA) state director. "As we go into the winter and demand hits, it's going to be a volatile market."
Last season, inventory rose to a nationwide high of about 104 million barrels to start the heating season and dropped to 39 million barrels in April.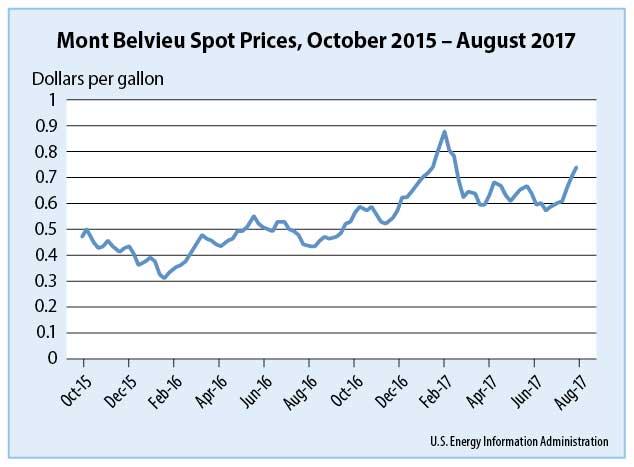 "We pulled 65 million barrels during a nonexistent winter," Richardson says.
"There are people out there who are skeptics because they don't see how global propane is," he adds. "I'm competing with a plant manager in China."
Too many U.S. retailers are taking a big risk, according to Richardson.
"This year, people have reduced what they have in storage. After two mild winters, they don't have enough money to fill their tanks," he says. "They're working off the bottom of their tanks."
Retailers must be mindful about mitigating any looming bottlenecks in their marketplace.
"When you're not paying attention, and you're not protecting your business and your customers, it affects everyone in the industry," Richardson says. "The customers go out and talk to their neighbors, and they say, 'I'm going totally electric as soon as I can.' It gives everyone a negative image."
Locking in winter barrels
Propane exports are up and inventories are down, creating a lot of red flags, according to D.D. Alexander, the third-generation owner and president of Global Gas and member of NPGA's Propane Supply and Logistics Committee.
"We can see some real price spikes if Mont Belvieu is low on inventory. If the price spikes at Mont Belvieu, it has a ripple effect across the United States," she says. "You can go to a supplier and lock in your price for winter barrels to guard against that. I strongly suggest that you go a step further and have gas in storage. You should ask your supplier, 'What product do you have that's sitting in a cavern?'
"Do you want to spend a few extra pennies to have gas in storage? Our answer is yes you do. If you wait until there's a crisis, it will cost you a lot more than that," Alexander says.
The big concern is a lack of inventory, says consultant Reid Simonett at Propane Resources.
"We're starting out the year with less inventory than the last two years," he says. "You really need additional storage to cover yourself."
It's also time for retailers to get rolling on locking in their railroad needs and diversifying their supply.
According to Simonett, retailers should be lining up their tank cars now, rather than waiting to see what happens with the weather.
"I'm concerned," echoes Jeff Thompson, a colleague of Simonett's at Propane Resources. "All it takes is one busy month of exports and things can get crazy really fast. If a cold snap hits, you're going to see higher pricing. We could be in a situation where we could be paying a higher price to keep those barrels in the U.S."
Deflecting the domino effect
The Propane Gas Association of New England (PGANE) is stressing that "proper planning is the critical factor in ensuring marketers will be able to reliably deliver propane to their customers."
According to a PGANE membership advisory, "Following two warmer-than-average winters, customers may be reluctant to enter into a contract relationship with a marketer or take proactive steps to plan for their winter fuel needs. When temperatures drop and fuel use increases, marketers have to be in a position to meet the demands of their customers."
The big issue in the Northeast is the Mariner East 2 pipeline coming online, says Alexander, referring to a project being implemented via an April merger between Energy Transfer Partners and Sunoco Logistics Partners. Although construction has been buffeted by delays and controversies, the pipeline will be critical for the Northeast if it starts flowing as scheduled Nov. 1.
In addition to shifting overseas-bound propane away from the Northeast, according to Richardson in Georgia, "it would also divert propane from Conway (Kansas)."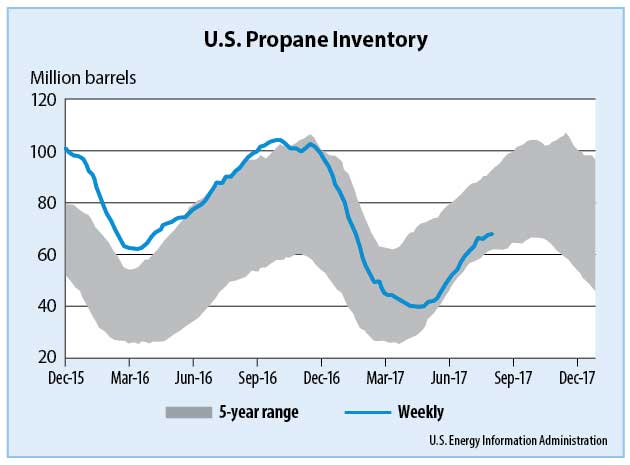 "You've got to be prepared for the worst-case scenario. There are lots of unknowns. That's why being prepared is so important," notes Greg Noll, executive vice president of the Propane Marketers Association of Kansas. "Work with your suppliers. Increase your storage at bulk plants and at your customers."
In Michigan, Executive Director Derek Dalling is hoping his members remember the vortex winters of several years ago and that supply continues to build before the furnaces kick on.
"Marketers here in Michigan are promoting summer fills and pre-buys," says Dalling, advising the Michigan Propane Gas Association membership to "think about your winter supply now while it's still warm out. No matter how warm the winter is, the furnaces are on four or five months per year."
A receptive audience
Even if the winter is a relatively warm one, one big blizzard on the plains can stop the railcars in their tracks, says Roger Leider, executive director of the Minnesota Propane Association.
"We have a large amount of rail facilities in the state, but the system hasn't been hard tested; we haven't had a long, cold, hard winter," he says.
Leider likes where his members currently stand, with a high percentage of them lining up supply and locking in their margins. Some will still play the open market.
In August, the membership was "wondering about the crop drying market and watching the build. They're going to take their cue from the farmers," Leider says. "We're not sure of the degree of crop drying. They're watching crop drying rather closely; they don't want to have to eat those extra gallons."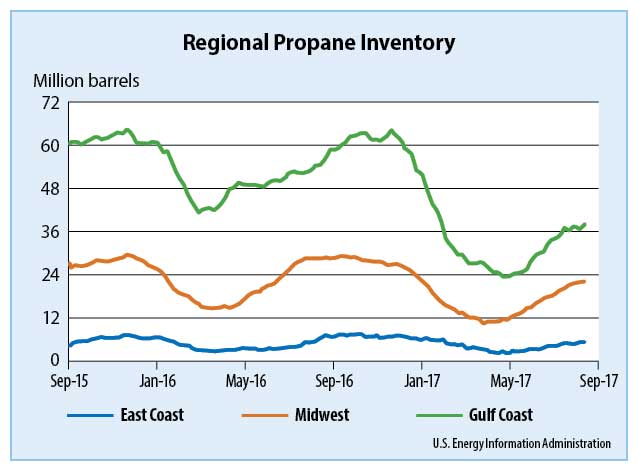 Tom Osina, executive director of the West Virginia Propane Gas Association, says many of his members have installed additional storage since 2013-14.
Members have also been discussing the merits of renting extra tanks.
"There's only so much storage you can do, so why not think of creative things?" Osina says. "It's like a satellite plant without a major investment."
Should logistical challenges arise beyond winter's normal ebb and flow, the association is keeping in touch with state energy officials, who could provide added support.
Many companies in the Rocky Mountain region offer summer-fill promotions, says Phil Scheel of Tumbleweed Propane in Thermopolis, Wyoming, and president of the Rocky Mountain Propane Association.
Customers benefit from both a supply and cost perspective.
"We encourage them to take advantage when the price is low rather than wait until winter and play catch-up," he says.
In California, price increases from suppliers have arrived earlier than expected, says Robert Jacobs, vice president of business enterprises at Delta Liquid Energy. "I think it's partially coming from the inventory build in the country," Jacobs says.
"We did a good job providing our customers with a good pre-buy program this year, so they're assured of price and supply," he adds.