Foster Fuels mourns loss of former owner
Watt Robert (Bobby) Foster, former owner of Foster Fuels in Brookneal, Va., died on April 26 at age 77.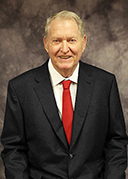 Foster and his brother, L.H. Foster Jr., helped launch the company's propane division in 1960 under the leadership of their father, L.H. Foster. Bobby Foster became part owner of the business and eventually sole owner. The company currently enjoys its 94th year in business under the third-generation leadership of Bobby Foster's son, Watt Jr. Bobby Foster is survived by his wife of 56 years, Nancy; two children, Watt Jr. and his wife, Jennifer, and Cynthia Foster Craig and her husband, Sam; six grandchildren; and his sister, Mildred Lewis Kimm.
Photo: Foster Fuels