Fuel for the farming community and some Southern hospitality
Propane is at Southern States' core, but a day with the nation's 10th-largest retailer shows how it goes far beyond fuel for the farming community.
The Southern States Cooperative bobtail pulls into a driveway and comes to a stop on farmland that stretches nearly as far as the eye can see in one direction. This is Briarpatch Farms, an Oxford, N.C., farm that uses propane for a variety of reasons.
Propane heats the farmer's house, his greenhouses and a swimming pool. It's also used for cooking and to dry grain and cure tobacco. The four-month crop-drying period requires a propane delivery to Briarpatch Farms twice a week on average. But with Thanksgiving less than a week away at this time and the last tobacco leaf of the season recently cured, the owner of Briarpatch Farms abandons his breakfast for a chat with 25-year-old Brandon Williamson, who's driving the bobtail on this day.
"At 350 gallons per cure times 115 cures, we probably burned about 40,000-plus gallons of propane this tobacco season," says Danny Williams, the 62-year-old farmer, who takes one last propane delivery after curing's complete so he's set to start the 2014 growing season.
One unique aspect of Williams' relationship with Southern States is that it isn't limited to propane. He also counts on Southern States for 90 percent of his farming inputs, including seed, fertilizer and fungicide. Southern States is, after all, a farmers cooperative that's designed to meet an assortment of farmers' needs.
"It's very important that you have a trust in your supplier," Williams says. "Farmers have to get a good product at a competitive price. Propane is the lifeline of running this farm. It's a necessity – we have to have it. It would be just about impossible to cure tobacco without propane. Plus, it's economical."
Financial flexibility
One component that makes Southern States particularly economical to farmers like Williams is its financing program, says Pete Ostman, a propane operations manager.
According to Ostman, John Deere Financial Inc. handles financing for Southern States. John Deere offers a variety of payment methods that are attractive to farmers yet also available to the company's residential customers.
"The John Deere program was put in place for the farmers," Ostman says. "Farmers don't get paid until their [crop] hits the market, so they ask if they can defer their payments until they sell their tobacco."
John Deere's role as the financier offers benefits to Southern States employees, as well.
"In the past I felt like I spent half of my day on accounts receivables trying to get slow-paying customers to pay," says Ostman, who's worked for three other propane retailers, including one in Alaska, throughout his career.
Ostman, who by now has been with Southern States for about nine months, was hired in part to further diversify the company's propane accounts in central North Carolina, he says.
"Our competitors can't compete with us on the ag side because we offer seed and feed all at one stop," says Ostman, who oversees four stores. "What we've done with me coming on board is take the propane responsibility off the store managers. I oversee the operation and am tasked with growing the business."
Store No. 1
One store Ostman oversees is located in Oxford, N.C. This is one of Southern States' older, more rustic-looking stores, as evidenced by its location adjacent to railroad tracks and a gravel parking lot.
Forty-five percent of this store's sales derive from propane, Ostman says, as it sells about 800,000 gallons each year. Most items in the store aren't propane related, though.
A propane hot water heater is marketed in one corner and 20-pound cylinders are shelved in another, but most of the store is made up of a variety of items farmers and others in this rural community typically use.
Massive gun safes in the middle of the store are the first items the eyes see. Behind them, boots and socks are shelved, while jackets and hunting gear are racked. Various bottles of sprays and repellents are shelved neatly throughout the store, too, as are a number of bagged products for use outdoors.
This is not your typical propane retailer. A sign promoting deer corn for $9.99 per bag outside the store illustrates this concept well, too. The same sign indicates that propane is available here, but where else can someone in North Carolina meet both of their propane and deer corn needs?
On the road again
Back in the bobtail following a tour of Southern States' Oxford store and a stop at Briarpatch Farms, Williamson, the young bobtail driver, prepares to make his next round of stops and offer a glimpse of his typical day.
Around this time yesterday, Williamson was embarking on the first of 32 residential delivery stops. He delivered roughly 4,800 gallons yesterday. Williamson is in the bobtail on most days delivering propane, he says, but one day of his week is usually devoted to service work on farms.
"There's three of us in the propane department," Williamson says. "All of us have different talents. I like coming out in the bobtail and having the customers talk to me."
Williamson arrives at a residence with a gated driveway. The passageway through the gate is rather narrow for a bobtail, but Williamson has been here before. He opens the gate, cautiously, backs the bobtail through it and parks the vehicle.
An underground tank deep into the backyard is Williamson's target, so he grabs the truck's hose and makes a beeline for it. Williamson has just started pumping when around a corner of the house appears a St. Bernard.
The unchained dog approaches to inspect his unexpected guest, who isn't fazed by the beast's presence. Had this been the first time Williamson was delivering propane to this home, the St. Bernard's presence would have been a surprise. But Williamson knows this yard well from past visits, and he's come prepared with dog biscuits to keep this St. Bernard satisfied.
Williamson hurls a biscuit in the St. Bernard's direction. Almost immediately, the hound realizes he's facing a friend and not a foe.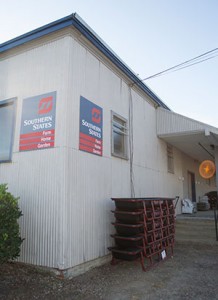 "Dog biscuits are your best friend," Williamson says jokingly. "I got bit once within the last couple of years. But I brought biscuits back there and now that dog is my friend. I go through two 4-pound bags of biscuits per year on the job."
With the drop in this particular yard complete, Williamson heads back to the bobtail to wrap up his business here. The St. Bernard follows as if to say goodbye, and Williamson launches another two biscuits its way.
Safety first
Williamson makes his fourth and fifth stops without any hiccups, but an unexpected cable is ahead in the driveway at stop No. 6. The cable catches him by surprise. Williamson has been to this location plenty of times before, he says, and not once had a cable been a potential obstruction.
He parks the bobtail and exits the vehicle to inspect the cable and assess how he should act in this situation. Once he determines passage can be made safely, he proceeds.
According to Williamson, cables aren't the only potential obstacles he's faced in driveways. Driveways themselves can be treacherous.
"Some driveways don't have enough rock in them," he says. "That makes things tough. One time I went and fixed a driveway that needed fixing."
Just part of the job as Williamson sees it.
Store No. 2
Afternoon has arrived, and after spending the morning at Southern States' Oxford, N.C., store, it's time for Ostman to visit a second store in Mebane, N.C.
The storefront in Mebane is vastly different from the one in Oxford. It's only a few years old for starters, and it's larger than Oxford's at 10,000 square feet. This store is larger, in part, because it's in one of the fastest-growing cities in North Carolina, according to Ostman.
About 30 percent of the store's sales are generated from propane, and the store sells about 400,000 gallons per year, says store manager Jonathan Moize. Farm supply represents about half of the store's business, Moize adds, and a pristine garden center is a draw for many people in the community.
"A husband will come in for propane and a wife will wander out to the garden center," says Katie Pritchett, a garden center associate. "She might not have had any idea [the garden center] was here."
Cross marketing propane with perennials and flowering potted plants may seem unusual for a propane retailer, but Ostman says the model works well in this community and in about a dozen or so others where Southern States has garden centers at its stores.
Ostman's visit brings him to longtime Southern States employees like Bill Needham. As new as Ostman is to Southern States, many of the employees he oversees have tenures that exceed a decade. Needham, who's been with Southern States for 16 years, is no exception.
As Williamson referenced back in Oxford, Southern States is made up of people who possess a variety of capabilities. Few employees, if any, just drive a bobtail on a daily basis. And Needham is yet another example of the propane company's versatile people.
"You have to wear multiple hats in the field to work with farmers," Needham says.
Yes, farmers need their propane to be delivered. But they also need pesticides to be sprayed and fertilizer to be spread. Needham and others at Southern States also handle these responsibilities, which require an assortment of licenses and training hours that other propane retailers aren't necessarily required to have.
"It takes a good strong worker to work here because we don't have any offseason," Moize says. "The dairy farmer works sun up to sun down."
And so Southern States goes to meet that farmer's needs, albeit in propane or another area.
"Retaining your customers' loyalty is important," Ostman says. "It's above industry standard, and that's the reason why I'm here."
By the numbers
300,000: Number of farmers who own Southern States
1923: Year Southern States was founded
300: Number of U.S. storefronts
60: Number of years Southern States has been a propane retailer
Photo: Southern States Cooperative
Kevin Yanik is the senior editor of LP Gas Magazine. Contact him at kyanik@northcoastmedia.net or 216-706-3724.