Propane industry celebrates induction of 2017 Hall of Fame class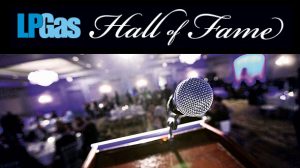 The LP Gas Hall of Fame inducted its sixth class in Nashville, Tennessee, where John D. Capps (National LP-Gas Association), Theodore Lemoff (National Fire Protection Association), Darrel Reifschneider (Manchester Tank) and William Young (Superior Energy Systems) were officially enshrined.
Lemoff, Reifschneider and Young attended the ceremony at the Omni Nashville Hotel, reflecting on their storied careers upon being honored in front of more than 100 attendees. Capps, who was inducted posthumously, was represented on stage by his daughter, Leslie Barr, and wife, Estelle Capps.
"Soon after we named this year's class, I was talking to a friend of the magazine about our four inductees," says Brian Richesson, editor in chief of LP Gas. "He said, 'This is like the workhorse class of the industry.'
"And it makes sense: Two of our inductees (Reifschneider and Young) really entrenched themselves on the equipment side, paving the way for the industry and taking on a lot of responsibility that few others chose to assume. Another inductee (Lemoff) involved himself deeply with codes and standards, which really serve as a backbone to keeping our industry on a safe path to success. Yet another inductee (Capps) worked tirelessly in association leadership and on behalf of propane marketers."
The inductees
Capps became known as a consensus builder through his industry work from 1972 to 1988, uniting the association en route to reaching its goals. He also helped to bring the propane industry into a more modern era, using his outgoing personality to represent the association and the industry in his community, as well as nationally and internationally.
"It is very special for you to remember and honor him like this 25 years after his retirement," says Estelle Capps, in acceptance remarks to the industry. "It sure was a surprise to me and my family."
Lemoff, meanwhile, worked as staff liaison at NFPA for several codes and standards for 25 years. He was a principal gases engineer who oversaw the Liquefied Petroleum Gas Code (NFPA 58) and the National Fuel Gas Code (NFPA 54), exhibiting a unique ability to bring a group together as staff liaison.
"My work in propane began when I answered an ad in The Boston Globe put out by NFPA for a gas engineer," Lemoff says. "I didn't have most of the qualifications, but as I found the real qualifications are never in the ad. To make a long story short, I got the job."
Reifschneider, another member of the 2017 class, led Manchester Tank as its president and CEO and brought the overfill protection device to market as a solution to overfilled cylinders. He joined his mother, Mollie Reifschneider, in the family business full time in 1955.
"This is a family story," Darrel Reifschneider says. "My folks started [the business] in Colorado. My brother and I rode our bikes every day to the plant about 10 miles away. He was 11 and I was 13. We both worked almost every job in the plant and in the office over time."
For more than half a century, Young has dedicated himself to the safety and improvement of the propane industry. He has been involved in the design and installation of more than 2,000 propane fuel systems, and he has dedicated his time to designing unique products and conquering challenging projects.
"I entered the propane industry in an unusual way," Young says. "I accepted a summer job at Industrial Gases in Pittsburgh between my sophomore and junior years. During my second week there, I was asked if I could do mechanical work. I said 'yes' and drove to a local distributor of Yale forklift trucks. I asked for Sam, who gave me a box of equipment and took me to a new forklift truck. In the box were the components for a propane engine fuel system and instructions to convert the forklift to run on propane. Surprisingly, when I was done, it actually started and ran."
Takeaways
The additions of Capps, Lemoff, Reifschneider and Young take the total number of LP Gas Hall of Fame inductees to 32.
Also, several sponsor companies supported the LP Gas Hall of Fame this year. They were founding sponsor Suburban Propane, AmeriGas, Blossman Gas, Energy Distribution Partners, NGL Energy Partners LP and Tarantin Industries Inc.
The Hall of Fame launched in 2012, propane's centennial year, as a way to honor the legends, icons and leaders who have helped establish, advance and grow the propane industry. The Hall of Fame is open to any living or nonliving propane industry employee, working at any level of his or her company, or having retired.
Learn more about the LP Gas Hall of Fame and nominate a deserving individual at www.lpgashalloffame.com.
Kevin Yanik was a senior editor at LP Gas Magazine.