Knowledge is power: Women in Propane programs promote professional growth
For anyone who is new to the industry or for someone who might want to rejuvenate their professional career in propane, the Women in Propane Council (WIP) is an ideal place to turn.
The WIP council was built on and stands by the principles of bringing diversity, equity and inclusion to our industry. Despite its name, WIP is for both men and women; anyone can become involved.
The WIP council has several valuable offerings that industry members, regardless of their position, are encouraged to take advantage of. In addition to their annual leadership training, networking events and webinars, the council is busy providing individual professional development opportunities throughout the year.
When I was new to the industry several years ago, I became involved with WIP to learn more about the industry and how to navigate the career ahead of me, and having a mentor was a crucial first step.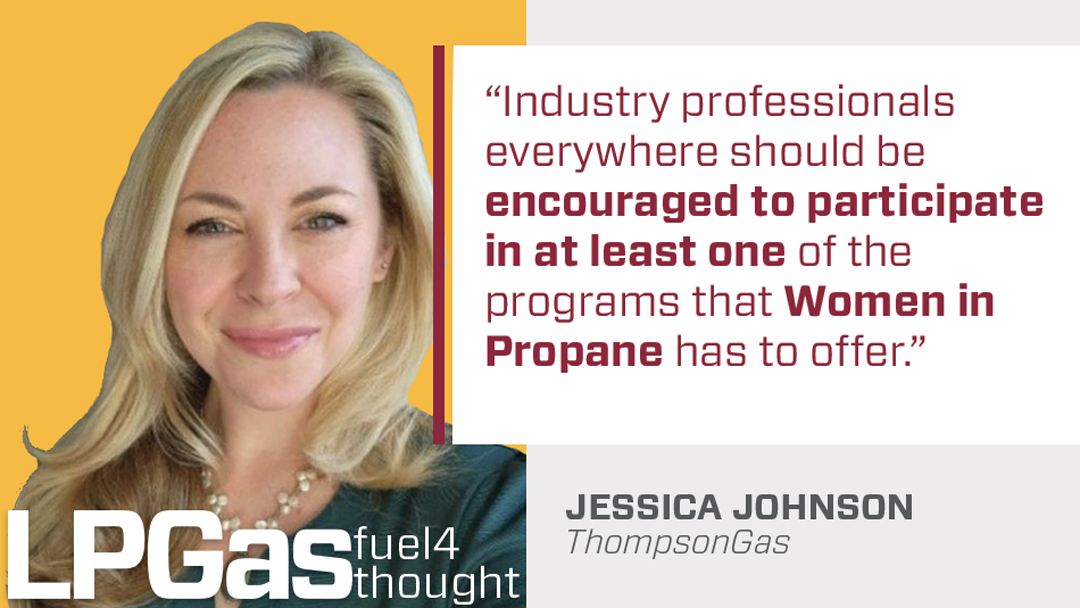 Knowledge Exchange program
Women in Propane offers a free mentorship program called the Knowledge Exchange where mentors and mentees are paired up and meet on an agreed-upon schedule for approximately six months.
The program is designed to help mentees grow into their professional roles and achieve their personal growth goals. Mentors are industry veterans who are looking for the opportunity to "pay it forward" and those who can offer guidance on many different levels.
As someone who personally went through this program during my first year in the industry, I can vouch for how valuable it is. I am still in contact with my mentor after all these years.
Lauren Clark, president of Bergquist Inc. and chair of the Knowledge Exchange program, is focused on growing the mentor and mentee pool for our industry. The leaders at the National Propane Gas Association are committed to the development and connection of men and women in our industry, so much that they have agreed to fully fund the Knowledge Exchange, making it free to mentors and mentees to participate.
"It is up to us, as leaders, to encourage the newcomers to our industry to engage with a mentor through the Knowledge Exchange," says Clark.
Clark shares about how the software platform is easy to navigate. Anyone can set up an account and create their own profile as a mentor or mentee. Then, the software algorithms will match each mentee with two or three mentors, at which point the mentee can select a mentor and the system will guide both participants throughout the mentorship term.
"We have received feedback from some companies who are interested in using the platform for internal mentorship relationships, and that option is now available and can be set up directly through me," Clark says.
Julie Johnson, owner of Ted Johnson Propane, has been a Knowledge Exchange mentor twice. Sharing her thoughts on the value of the program, she says, "An African proverb says, 'When an old man dies, a library burns.' As our industry is aging and retiring, it is more important than ever to transfer that knowledge before it is too late."
Thankfully, she says, WIP has figured it out. Its Knowledge Exchange mentorship program is available for all. Making a healthy connection with another member of the propane industry strengthens the industry as well as accelerates that individual's maturity.
Johnson adds, "I have personally mentored two amazing women in our industry through this six-month program. Today they are proud to be in our industry and are making a difference. The role the mentor plays in this course is to get to know the mentee and what areas they have identified for their personal growth. Then, walk virtually with them through the growth process. Taking the skills they already possess and challenging them to stretch themselves to accept new responsibilities right where they are."
As an experienced mentor, Johnson also gives some suggestions for success: "Occasionally, I recommend additional reading material to supplement the regularly scheduled conversations. Accountability is also an important ingredient. Both parties must show up and be present in the process; 100 percent participation will equal 100 percent success."
Speaking of success, she says, every meeting is a time to celebrate new accomplishments and landmarks that the mentee has achieved.
If you have a library of knowledge that you would like to pass on to the future leaders of our industry, please join Johnson in mentoring. If you have never mentored anyone, now is the time. The program will help you with the skills needed to be an exceptional mentor.
Other initiatives
In addition to its nationally implemented mentorship program, WIP has begun an association engagement initiative to fortify and expand relationships with each state association through ambassadors who attend association meetings, report on WIP events and efforts, and relay feedback and action items back to the Association Engagement Committee.
Our goal is to have an ambassador in every state. The outreach to associations is part of a larger goal to bring the council's nationally spotlighted work to the regional level.
Along with the Knowledge Exchange and the newly implemented state ambassador initiative, WIP offers many opportunities for leadership training. Its popular DISC Assessment and Training provides insights around team dynamics based on personality traits (dominance, influence, steadiness and conscientiousness) as well as strengths and weaknesses. As individuals learn about themselves, their colleagues and how their DISC profiles work best together, teams can optimize performance in real time in the workplace.
Our certified DISC trainers can lead the assessment and training process virtually or in person. We are also able to conduct this three-hour training at any state association meeting, which is exciting.
Industry professionals everywhere should be encouraged to participate in at least one of these programs that Women in Propane has to offer. The result will be employee engagement, excitement and improved performance.
Read more:
---
Jessica Johnson is the national accounts coordinator at ThompsonGas and a Women in Propane ambassador to the Southeast Propane Alliance. To learn more about Women in Propane or to take advantage of any of the programs outlined here, contact Johnson at jcjohnson@thompsongas.com or visit womeninpropane.org.