LP Gas Hall of Fame Profile: Casey Jarvis
The LP Gas Hall of Fame welcomed five inductees to the Class of 2014 during a dinner and awards ceremony on April 11 in Atlanta. They are Casey Jarvis (JARCO), William B. McHenry (Pro-Gas Sales & Service), Daniel N. Myers (NPGA), J. Charles Sawyer (Sawyer Gas) and Dwain Willingham (Propane Resources). 
Edward Peters Jarvis Jr. had such a keen mind for engineering that he was able to whittle down the heavy propane transport designs borrowed from the fuel oil industry to devise a more efficient, lighter and safer delivery vehicle.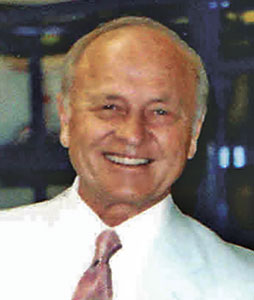 His concepts revolutionized propane delivery and have been incorporated into more than 5,000 trucks since he launched JARCO in 1959 to manufacture them.
What's even more amazing is that "Casey" Jarvis, as friends and colleagues know him, never completed college. Yet, he went on to design complex and highly efficient trucks that won the praise of engineers and were employed worldwide.
Jarvis, who died in 2011 at age 86, was born and raised in the Los Angeles area of southern California. He attended Beverly Hills High School, where he became known as a great athlete. He earned the nickname of the fictional baseball player because of his great arm, but lettered in basketball.
Raised by his mother after his parents' divorce, Jarvis joined the Army Air Forces in 1942 and trained to pilot a B-24 Liberator Bomber. He served in the European Theater, successfully completing 28 combat missions, and was awarded the Air Medal.
After the war, he returned to California, where he attended Santa Barbara State College and the University of Southern California. He met Helen and, when they married in 1948, he quit school, never completing college or earning his degree, according to Nancy Coop, the couple's oldest daughter, who followed her father's path into the propane industry.
Left to his thoughts
He found a job as a salesman for Superior Tank in Los Angeles, selling tanks for about seven years. Then one day, during a two- to three-hour drive home from California's central valley with a broken car radio, Jarvis had time to think.
"Stuck with his own thoughts on this long drive, spending the day selling tanks for Superior, he thought, 'I could do this,'" Coop recounts. "He had some strong ideas about how these trucks should be built. It was on that drive home that he decided to quit his job and start his own company. It was all for the loss of the radio.
"He gets home and says to my mom, 'Great news, honey!' My mom is sitting there, now pregnant with her third child and the washing machine had broken that day," Coop continues. "And he says, 'Great news, I quit my job and I'm going to start my own company!' And that's exactly what he did in the spring of 1959."
Jarvis started the business in their home, then moved to an office inside a welding shop, then to a trailer behind the welding shop and eventually to his own office in Newport Beach, Calif. He was almost always home for dinner with the family, which grew to include four children.
"His family was incredibly important to him and my mom," Coop recalls.
JARCO employees and customers became like family as well. They frequently came to the home for dinner and became acquainted with Coop and her siblings.
As much as Jarvis relished the sunny California coast, he knew he needed a more central location to manufacture and deliver the JARCO trucks. He settled on Salem, Ill., as the manufacturing base and added another location in Alberta, Va. Eventually, the Alberta plant was closed, followed many years later by the Newport Beach location.
Making a difference
Jarvis found he could make a difference by reducing the amount of steel required for the propane bobtail, but he successfully improved many aspects and his designs were widely adopted.
"He had a very strong work ethic in that he knew he wanted things done well, and he knew he was very interested in quality," Coop says.
Originally, bobtail tanks were made from sections of pipeline that were capped, says Robert Myers, who met Jarvis more than 40 years ago when Myers was with Petrolane Inc. and responsible for buying its bobtails. When retailers sold butane and propane, he says, twin tanks made it possible for a driver to deliver both. But retailers who exclusively delivered propane did not need that extra weight.
"Casey's real innovation was to get rid of ancillary steel," Myers says, describing the large iron skirts and doors that added to the weight and rusted. "Casey figured out early on that was just hauling around a lot of steel that was unnecessary."
Without the doors and skirting, the barrel became the major component on the chassis, giving drivers easier access to the valves. Removing the heavy doors also eliminated the frequent need to replace their springs.
"That was the big contribution that Casey made, in my view, to the design because it saved a lot of weight and a lot of operating expense," Myers says.
Although the barrel part of the unit was good for 20 to 25 years, the chassis would wear out and need to be replaced every seven to 10 years, he explains. After talking with Myers, Jarvis simplified the replacement so that only six bolts were removed to detach the barrel from the chassis.
Jarvis was interested in more than selling trucks. He first wanted to learn exactly how the equipment was to be used, and he worked backward to determine the most efficient design, Myers says.
"He didn't look at a bobtail as a piece of art that you put all this time and effort into," he adds. "We needed something easy to change out, as light as it could be, and efficient for the bobtail operator."
With a keen eye for efficiency, Jarvis did such things as relocate the pumps from the middle of the tank, which often required U-joints and awkward angles, to place it in line with the power takeoff, says Bill Stewart, chairman of Blue Star Gas in northern California. Jarvis also placed the meter behind the driver's door so that in a rainstorm the driver could get in and out of his truck without the meter ticket getting soaked.
"We were both engineers, and as a result I came to fully appreciate what he did," Stewart says. "These are little engineering things that really ended up being very significant. He was one of the first people who understood all of these details."
Jarvis' careful design also made for longer-lasting trucks. One of Blue Star's was rebuilt numerous times over the years to keep it in service, and it delivered more than a million gallons. More than 40 years later, Blue Star uses the refurbished truck in parades.
His designs also improved safety.
"He invented his own style of emergency equipment so you could lock the breaks if the hose was off the back or if the hose was still connected," Stewart adds. "These are safety features that were absolutely, very, very significant."
Sharing his expertise
Jarvis' contributions extended beyond his own business. Rather than filing for patents, he shared his designs with the industry so that all could benefit. He also served as president of the Western Propane Gas Association in 1970, and in 2007 the organization recognized him with a Distinguished Service Award.
In addition, he contributed on a national level, serving on the Technical and Standards Committee of the National Propane Gas Association. He and his wife were regular attendees at industry meetings and shows.
In 2005, Coop and her husband purchased the company from her father. Five years later, Polar Service Centers, a division of Polar Corp., acquired JARCO.
"Casey was extremely dedicated and devoted to the propane gas industry and the people. He was a friend with a lot of his customers as well as being a supplier. He was a first-class guy," Myers recalls. "He was generous with his time, a congenial guy, and I never knew anyone who didn't speak highly of him. [He was] the guy you'd like to have as a neighbor, but in a certain sense he was a neighbor to much of the propane industry."
Photos: LP Gas