LPG Spotlight: CoEnergy Propane
It took CoEnergy Propane 18 months to secure a rail car load of renewable propane.
That 30,000-gallon load, delivered this summer, was the company's first step toward meeting an ambitious internal goal: to source 10 percent of its supply from renewable propane by 2025 and 100 percent by 2032.
The goal arose from the company's commitment not only to the environment but to the long-term viability of the product it offers to about 9,000 Oregonians, says Bryan Adams, president of the company.
In Oregon, regulatory pressures against fossil fuels are mounting. The state's cap and trade program sets a declining limit, or cap, on greenhouse gas emissions from fossil fuels used throughout the state.
CoEnergy isn't impacted under the current requirements but expects to be by 2028, says Adams.
A renewable propane supply is the company's way of finding a seat at the table in discussions with state legislators.
"Being able to demonstrate that there's a path toward renewable propane that has close if not all the way to a net-zero footprint, we can be part of that conversation in the energy complex," says Adams.
To date, CoEnergy has distributed its entire 30,000-gallon load of renewable propane. It blended the product with conventional propane and used the blend to heat its own facilities before asking customers to try it. An initial group of 28 different homes tested the blend on different types of appliances and in different use patterns. CoEnergy expanded distribution to more customers from there.
The few propane companies that currently distribute renewable propane sell to the transportation market to benefit from existing government incentives.
CoEnergy doesn't collect those same cost savings because it sells primarily to the residential market. The company paid a $1.80 premium on its first load of renewable propane, reports Adams.
In the near term, CoEnergy is absorbing the added cost instead of passing it on to customers.
In the long term, it expects costs to come down as supply ramps up to meet demand. It also plans to earn credits under Oregon's cap and trade program as the carbon intensity of its product comes down.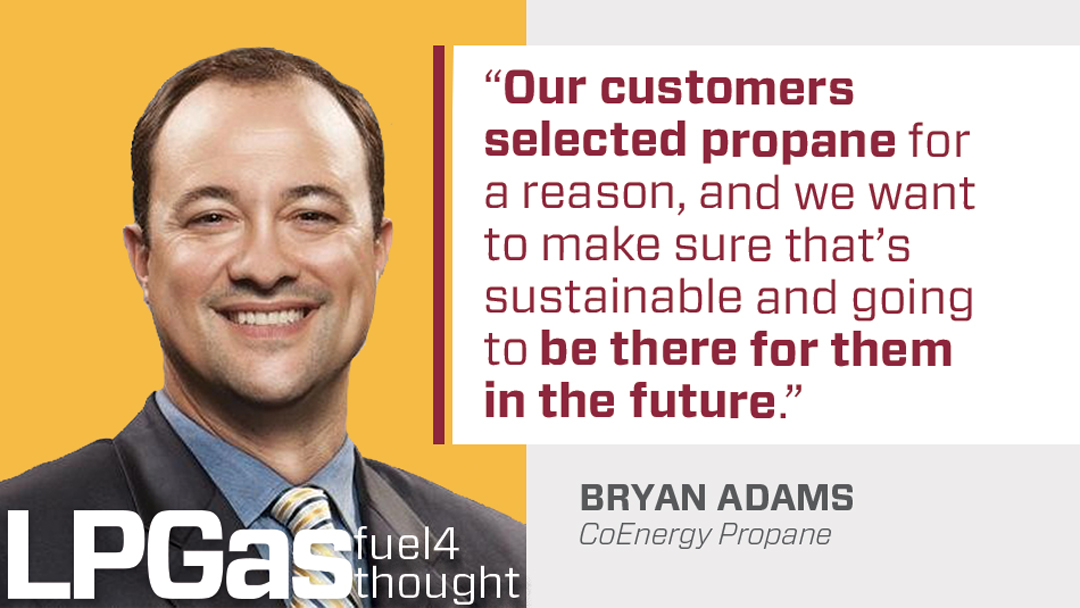 Customers are excited about renewable propane, says Adams, but that comes as no surprise to a company that was founded to meet demand for propane in the region.
Central Electric Cooperative and Consumer Power Inc., the two electric cooperatives that formed CoEnergy in 2001, entered the propane business because members expressed a need for it in their rural communities.
"A lot of our members and the owners see the propane very complementary to the electric grid," says Adams. "It helps take off some of the peak demand, especially during the winter when they mix in some propane for the home heating."
With renewable propane, CoEnergy positions itself to meet those needs well into the future.
"We're not just thinking about this next heating season," says Adams. "We're looking 10 years ahead and making sure that our customers have options. They selected propane for a reason, and we want to make sure that's sustainable and going to be there for them in the future."
Company profile: CoEnergy Propane
Year founded // 2001
Headquarters // Redmond, Oregon
Founders & owners // Central Electric Cooperative and Consumer Power Inc.
Bobtails & transports // 11
Annual propane gallons // 4.5 million