McCraw Oil & Propane directs focus on autogas to serve customers
McCraw Oil & Propane became a one-stop shop for all things propane autogas when it partnered with Alliance AutoGas in 2014.
The Bonham, Texas, company had a few autogas customers prior to the partnership, but it wasn't until afterward that McCraw Oil & Propane really prioritized autogas as a growth market.
Since partnering with Alliance AutoGas, the company has about 10 regular autogas customers. The company has also converted 11 vehicles in its fleet of 19 to autogas.
Jason Robinson, McCraw Oil & Propane's director of operations, says the conversions give the company more authenticity when promoting the fuel to customers.
"Propane conversions make economic sense for us and our customers," Robinson says. "We estimate we have saved about $3,400 per year on each converted vehicle, which is a reduction of about 40 to 45 percent in our fuel bill."
Mike Jones, McCraw Oil & Propane's commercial sales manager, says the company added an autogas pump at its facility to meet the increasing demand of companies converting fleet vehicles to autogas. Jones suggests all propane marketers consider adding autogas pumps at their facilities.
"We know not every dealer can commit to doing autogas conversions, but certainly every dealer can install an autogas pump for customers who need it," Jones says.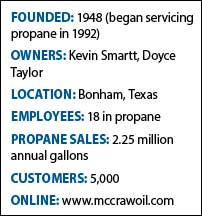 The company also offers maintenance services to the vehicles it converts.
"It made sense for what we already do as a company to offer this next generation of services, including maintenance," Robinson says. "With the partnership, we're also trying to convert things like mowers, generators and basically anything we can get our hands on."
Jones reaches out to landscapers in Texas and Oklahoma to encourage them to convert to propane mowers. He says propane's environmental benefits are the leading influencer in persuading landscapers to convert.
Robinson says McCraw Oil & Propane is willing to complete just about any autogas conversion, as long as it can get a conversion kit and customers feel like they'll save money by converting. Some of the more unique conversions at the company include a few generators and a crawler dozer.
According to the company, propane accounts for 20 percent of its business. In addition to propane, McCraw Oil & Propane operates convenience stores in Texas and Oklahoma, distributes wholesale fuels and sells lubricants and agricultural chemicals.
Although autogas is a relatively small portion of McCraw Oil & Propane's business, Robinson estimates it will take on a more leading role in the next few years.
"We are focused where the next generation is headed," he says. "The next generation of customers wants to go green, which is where autogas comes in as a market for propane companies."
Photos: McCraw Oil & Propane
Megan Smalley was an associate editor of LP Gas magazine.