Minnesota senator visits Propane Days, working to help alleviate supply issues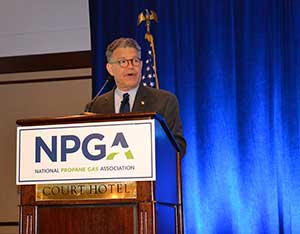 Sen. Al Franken, D-Minn., is more attuned to the winter supply issues the propane industry had last year than most of his colleagues in the U.S. Senate.
Franken is largely more aware of the issues because he saw firsthand many of the hardships propane users in Minnesota experienced.
"I heard stories about shortages of propane and also the amazingly high prices that went from under $2 per gallon to, in some places, over $6 per gallon," said Franken, who addressed propane marketers June 3 at Propane Days. "That hurt farmers and businesses in rural America, and people in their homes."
Franken shared the story of one Pine County, Minn., woman who couldn't afford to pay her heating bill when prices skyrocketed.
"One night she went to bed in several layers of clothes and wrapped in an electric blanket," Franken said. "When she woke up, everything in her house was frozen, including the olive oil."
The Salvation Army later helped the woman by delivering one-third of a tank to her, Franken said. The Salvation Army wasn't the only business to help consumers during times of need, though, and Franken recognized that.
"My experience with all of you is that you acted in a way that was enormously helpful in triaging," Franken said. "[You helped] when it was important and absolutely crucial to deliver."
Franken, who's actively crafting a bill with Sen. Tammy Baldwin, D-Wis., that's expected to help alleviate some of the propane industry's winter supply concerns, is aware of many of the factors that caused last winter's issues. He referenced a wet fall harvest, pipeline disruptions such as the reversal of the Cochin Pipeline and rail disruptions in his remarks to Propane Days attendees.
Franken also mentioned transport issues, with trucks having to source propane from Texas, and he flagged the Energy Information Administration (EIA) for providing poor inventory data as a cause of the overall issue.
"The EIA was just off on its forecasts, so we were caught in this perfect storm," Franken said. "It caused a lot of pain for families and businesses – and for you. We can't let this happen again."
To help ensure last winter does not repeat, Franken said he urged Sen. Mary Landrieu, D-La., to hold the hearing that ultimately took place May 1 and explored the various issues that caused last year's shortage. Landrieu serves as the chairwoman of the U.S. Senate Committee on Energy and Natural Resources.
"We shouldn't be having these problems in the 21st century of the United States," Franken said. "We shouldn't have people shivering in their homes, scraping by to keep their livestock alive. That's why I'm working now to do everything I can to help prevent this from happening again."
The addition or improvement of summer-fill programs, more tertiary storage and faster action by the federal government are other solutions to the supply issue, Franken said.
"Part of storage is tertiary storage – users filling up their tanks earlier in the season to avoid the mad rush when the crunch hits," Franken said. "People don't fill up their tanks at the end of the summer, but we can urge that. Also, we can have larger tertiary storage."
Photo: LP Gas
Kevin Yanik was a senior editor at LP Gas Magazine.