MTankCo hosts first open house for customers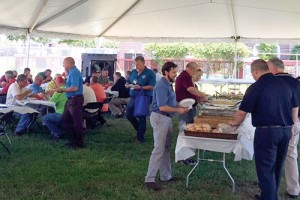 MTankCo Supply, a division of Mississippi Tank Co., hosted its inaugural open house in Southaven, Miss.
MTankCo Supply reports about 60 people attended the event, which featured two educational seminars for its customers in attendance. Blackmer led one seminar on how to rebuild pumps, and Marshall Excelsior Co. led a seminar that focused on its regulator line.
In addition to the educational seminars, Mississippi Tank Co. provided a bobtail on a Freightliner S2G chassis and a mini demo trailer for the latest truck equipment at the event. Nine vendors brought their latest technology to show customers. Some of the products exhibited included the Ebsray autogas pump from Blackmer and flex risers from Continental Industries.
MTankCo adds that it plans to host more open house events in the future.
Photo: MTankCo Supply