NCPGA telling industry's story with Propane Village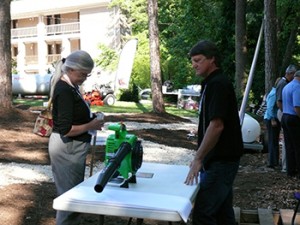 From autogas and boat motors to lawn care and weed control, there are a number of exciting opportunities developing for propane.
But, as the North Carolina Propane Gas Association's (NCPGA) John Jessup says, the industry needs to raise its profile so legislators can support these opportunities and consumers can buy into them.
Simply telling legislators and consumers about propane's potential can be effective, but it isn't necessarily the best strategy to build momentum for markets legislators and consumers know little, if anything, about. So rather than simply talk about the many applications in which propane can be used, NCPGA designed, built and christened a show-and-tell site on its property in Raleigh, N.C., and dubbed it Propane Village to give visitors a hands-on look at propane's various applications.
"Think about [the National Propane Gas Association's] Propane Days," says Jessup, NCPGA's executive director. "If we could just get Sen. [Richard] Burr, [R-N.C.], to sit in a propane vehicle, it would help legislators like him understand propane better. When someone can touch and feel something, then they get it."
Designing the village
When Jessup joined NCPGA less than three years ago, he saw the land around the association's new training center as an opportunity to tell propane's story.
Jessup's original ideas were small, like building an outdoor fireplace to invite legislators. The idea grew from there once Jessup got ahold of an aerial map and realized how much extra land NCPGA had. He then brought in a landscape artist to share his vision, and NCPGA made a list of items it wanted to incorporate into the village.
Beyond the vision, some of the first tasks were clearing the land and removing stumps and debris with the help of funds the Propane Education & Research Council (PERC) supplied. The association put down a patio, and Jessup teamed with Doug Lawrence, chairman of NCPGA's membership services committee, to outfit Propane Village.
"We went around and talked to different manufacturers about getting some outdoor equipment," Jessup says. "We got a Fire Magic grill donated and the outdoor fireplace. Just about everything in Propane Village was donated to us."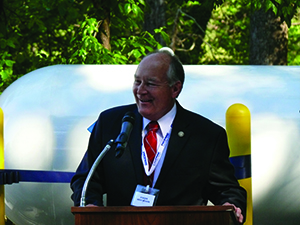 Some of the other items donated to Propane Village are a flame burner for weed control, mosquito magnets and tiki torches.
"As you walk through the village, you have outdoor living, an agricultural piece and lawn care," Jessup says. "All the labor to hook up [propane pipelines] was donated by members. This whole place is electric, and we're surrounded by natural gas. But the whole place now has six tanks on site, ranging from a 20-gallon cylinder to a 57 to an underground 330 and 420."
Future plans
NCPGA hosted an open house and ribbon-cutting ceremony May 11 to officially open Propane Village. More than 100 people attended, including North Carolina's secretary of energy, and NCPGA drew media coverage for the event.
"This is something other [associations] definitely want to do if they have the ability and land to do it," Jessup says.
NCPGA has plans to host Sen. Burr and Rep. David Price, D-N.C., at Propane Village at some point this year. Jessup also plans to update the village as new opportunities arise. State Sen. Brent Jackson, pictured above at right, visited Propane Village during the May 11 open house.
"In four years, a lot of today's technology will be obsolete," he says. "Propane is a never-ending story. As long as I'm here, we'll keep improving and putting new stuff in there."
Photos: NCPGA
Kevin Yanik was a senior editor at LP Gas Magazine.