New website dedicated to LP Gas Hall of Fame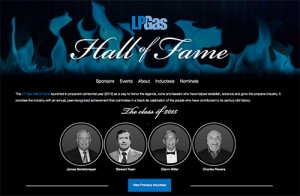 LP Gas magazine has launched the first online home of the LP Gas Hall of Fame. The website (lpgashalloffame.com) is dedicated to the propane industry's premier annual event and the legends it honors.
The website houses information about the hall of famers, including biographies, event photos and videos of their induction. It also provides event coverage, hall of fame history, sponsorship information and a nomination form.
LP Gas launched its hall of fame in 2012, marking the 100-year anniversary of the propane industry. The hall of fame recognizes inductees' outstanding contributions to the industry, and the gala, featuring a black-tie dinner and induction ceremony, pays tribute to these peer-selected leaders. The hall of fame will celebrate its fifth class of inductees April 7, 2016, at the Omni in Nashville, Tenn.
After the 2015 induction ceremony in April, the LP Gas team decided to create a website devoted to inducted members to honor their vast accomplishments in the propane industry.
"We've seen the LP Gas Hall of Fame grow in immense popularity since it launched four years ago," says Brian Richesson, LP Gas' editor in chief. "A website dedicated to the LP Gas Hall of Fame and our annual induction event gives readers one known location where they can learn about the legends, icons and leaders who have shaped our industry into what it is today."
The website launch also means inductees now have a permanent place of recognition following the annual ceremony.
"We wanted to give these industry leaders the recognition they deserve," says Brian Kanaba, publisher of LP Gas. "The hall of fame website will finally give a home to the men who have already been honored, as well as all future inductees. We are proud to be part of an industry with so many leaders and innovators and to create a platform to recognize all they have accomplished for the world of propane."