Residential regulator designed to fit tight applications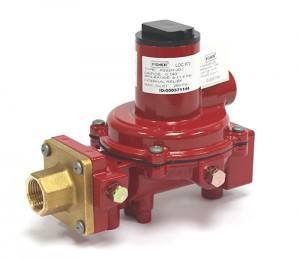 Emerson Process Management's Fisher Type R222H first-stage residential regulator features a 40 percent smaller footprint than most regulators to fit tight applications such as underground tanks or limited space under a dome, according to the company.
The Fisher Type R222H comes in eight model configurations. The regulator is listed for high-pressure LP vapor service in two-stage LP gas systems designed for customers who require up to 2-mbtu-per-hour flow rates, F-POL connections and multiple set points with adjustable pressure setting. The unit reduces domestic tank pressure down to either 5 or 10 psig.
Screened drip-lip vents go over the outlet as standard, and all units have inlet and outlet gauge tap ports for easy system testing. The Fisher Type R222H has a high-capacity internal relief valve and greater stability at higher flow and inlet pressures, the company notes. Emerson designed and tested the regulator at minus 40 degrees Fahrenheit for flow, lockup, start-to-discharge and reseal.
Photo: Emerson Process Management