September 2020: Tank car sub-lease rates
Each month, LP Gas provides updates on the U.S. propane market, as well as the latest trends. The data for September 2020 focuses on LPG tank car and rail car sub-lease and lease rate trends. This month's data comes from Energy Transport Insider.
Stock information for Ferrellgas and Suburban Propane is also provided.
PROPANE MARKET METRICS
Prices for 2020 winter LPG pressure tank cars are weaker, reflecting uncertainty over the coming winter season. Refinery demand is seen as being weaker than usual, and propane demand is uncertain.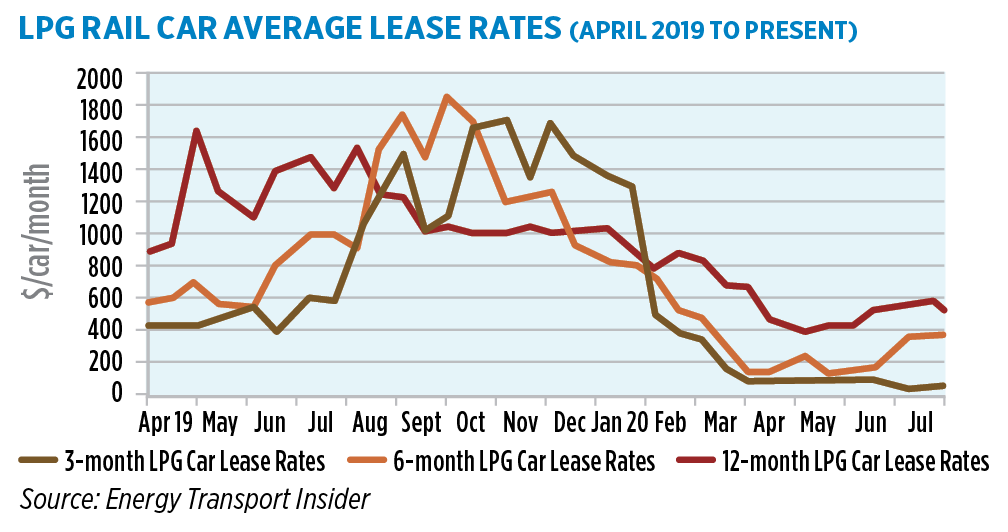 Tank car sub-lease rates were little changed as the summer doldrums continued to keep action quiet. Surplus pressure tank cars on the Gulf Coast are carrying propane and butane to Mexico.
Source of charts: Energy Transport Insider. Subscribe to Energy Transport Insider's sub-lease price assessment here: energytransportinsider.com/subscribe.php
---
STOCK WATCH
Company
12-month chart (as of August '20)
Price (8/17/20)
Current Yield
52-Week Low
52-Week High
YTD Price
Performance
Ferrellgas – FGP
$0.39
0.0%
0.14
1.22
15.7%
Suburban Propane – SPH
13.27
8.7%
8.64
24.45
(39.3%)
Source: Company data, FactSet and Wells Fargo Securities LLC
Note: Ferrellgas delisted from the New York Stock Exchange in January and now trades on the OTC Markets.
Featured image: iStock.com/MF3d
Sarah Peecher is the Digital Media Content Producer for LP Gas. Her experience includes content creation and strategy for both print and digital media, giving her the skills to share stories on websites and social media platforms.