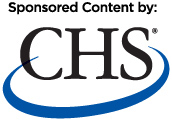 If 2019 was the year of domestic propane production growth, 2020 was the year of increasing the size, scale and scope of propane origination for export. Changing U.S. infrastructure has enabled previously landlocked propane supply to find a way to the Gulf Coast.
In the United States, several dynamic changes in production have taken place during the past two years, leading to a recent production milestone. In late December 2019, the U.S. achieved a record 2.46 million barrels per day (bpd) of propane production.
A chart of U.S. production shows a steady trendline of growth starting in 2012, approximately the same time U.S. producers started exporting LPGs.
Fast forward to 2019, where we observed eight percent production growth followed by a long list of fractionation expansions that came online in the first half of 2020. Conveniently, those that grew their natural gas liquids (NGL) processing capacity additionally invested in export infrastructure to stem concerns about future oversupply.
Export capacity increases
Only three months after setting that propane production record, the U.S. logged an all-time high weekly LPG export reading of 1.74 million bpd. That staggering number might not be completely accurate, given the sometimes-inconsistent nature of weekly government reporting, but it does highlight the point that U.S. LPG exports have become the key drivers of demand.
We are now in a market that can quite easily export over 50 percent of the propane produced, ultimately reducing reliance on residential demand, which is often driven by weather. This created a new market opportunity for Gulf Coast producers. Key suppliers based in the Midwest were left out, until inter-regional pipeline growth projects provided a solution.
Midwest infrastructure buildout
Midwest NGL suppliers stepped in to make significant investments and work through years of planning and regulatory approvals to build two new pipelines with a combined unfractionated natural gas capacity of 620,000 bpd. The companies bill their investment as an infrastructure solution to dealing with a very weather-driven market that offsets consistent production with often unpredictable Midwest demand.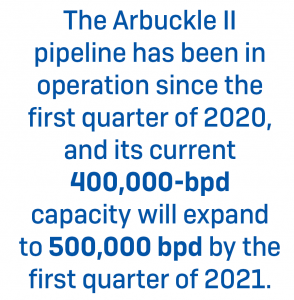 The Arbuckle II pipeline has been in operation since the first quarter of 2020, and its current 400,000-bpd capacity will expand to 500,000 bpd by the first quarter of 2021. The 530-mile pipeline connects an already robust upstream footprint in the Midwest with the Gulf Coast and increases capacity opportunity by up to 1 million bpd.
Additionally, the company uses a new long-term contracting approach, where they provide fee-based services to other NGL gathering operations in North Dakota, Montana, Wyoming, Colorado producers, allocating up to 50 percent of the pipeline's capacity. This means Arbuckle II will consistently re-route what was once Conway fractionation focused supply into the greater Mt. Belvieu region.
Another company is taking a similar approach with its Bluestem Pipeline, which is on pace to begin operations in the first quarter of 2021 with a capacity of 120,000 bpd. The line will originate in Kansas and measure 188 miles in length, tying into the Grand Prix NGL Pipeline in Oklahoma. This pipeline connects Conway NGL processing complexes with access into the Mt. Belvieu markets and beyond.
Impact on Conway
What impact could this have on Conway hub prices? The short answer is an increased price correlation between the two hubs. As of mid-December, Conway propane's average discount to Mt. Belvieu in the fourth quarter is the narrowest in at least three years. An average discount of around a penny has been realized, with a year-to-date 2020 average discount of less than two cents. For comparison, Conway's discount in 2019 averaged six cents and was as much as a 20-cent discount in the second half of 2018.

Conway hub propane's historic discount to Mt. Belvieu. (Photo provided by CHS)
A Conway market that primarily took its cues from the volatility of weather forecasts and the occasionally dynamic demand seen from crop drying has now evolved. Something as seemingly unrelated as fog in the Houston Ship Channel, or increasing Chinese petrochemical demand, or even growing propane cylinder demand in India due to lockdown measures may now be a new indicator of price action in the Conway hub.
However, with this opportunity comes the potential risk for those downstream. What happens when we see the next polar vortex? If these producers and midstream suppliers find more value by shipping inventory south and even contracting obligations for months in advance, who will store inventory for uncertain peak demand periods? This and other questions remain unanswered as we navigate this new era of inter-regional pipeline infrastructure. The only certainty is that Conway's hub price action will likely more closely follow that of Mt. Belvieu.
Waiting for opportunities for depressed prices at Midwest pipeline terminals due to unseasonably warm weather could be a thing of the past. It appears we are already seeing this play out today with the narrow discount in Conway. Additionally, we've just realized the fourth warmest November since 1950, and even as that warmth spilled over into December, Conway propane has done nothing but appreciate to multi-year highs. Overall, more questions than answers remain as this shift in the Midwest propane space takes place.
Plan ahead
Propane marketers should work with their CHS account managers to discuss the potential supply impacts of the new pipelines and how supply planning may help you be more prepared. Marketers not currently partnering with CHS Propane can learn more by visiting CHS Propane Insights or by calling 1-800-852-8184.
---
Header image provided by CHS
This page was produced by North Coast Media's content marketing staff in collaboration with CHS Propane. NCM Content Marketing connects marketers to audiences and delivers industry trends, business tips and product information. The LP Gas editorial staff did not create this content.