Stars shine at LP Gas Hall of Fame induction ceremony
The LP Gas Hall of Fame inducted its seventh class at The Ritz-Carlton Atlanta where Bill Clark (Butane-Propane News), Elbert "Al" Linder (Coast Gas), Stuart Weidie (Blossman Gas) and Roy Willis (Propane Education & Research Council) officially joined the ranks of Hall of Famers.
Weidie and Willis attended the ceremony, where they were honored in front of about 150 attendees. Clark, who was inducted posthumously, was represented by his daughter, Natalie Peal. The National Propane Gas Association's (NPGA) Bruce Swiecicki represented Linder, who was unable to attend the event.
"While last year's class became known as the 'workhorse class of the industry,' we think this year's class really embodies 'star power' for the industry," says Brian Richesson, LP Gas editor in chief. "We have Roy Willis and Stuart Weidie currently. Bill Clark had the industry's attention in an earlier era. And Al Linder earned a lasting name for how he contributed to the safety of the industry."
The inductees
Clark made a name for himself as the voice of the propane industry in its early days, ultimately serving the industry for over 60 years. As the publisher of BPN, Clark kept industry members informed of the goings-on in the industry by approaching complex issues simply. He used the power of the pen to advocate for the congressional legislation that led to the formation of the Propane Education & Research Council.
"My dad loved the propane industry," Peal says. "You were as much his family as we. The last time my dad came to an industry event was 2004. He wanted to go to Washington, D.C., for the fall board meeting. He was afraid that no one would remember him at the reception because he hadn't been around for a while. So, he went and he was very surprised because people knew him. They loved to see him."
Linder's work changed the game for propane safety. During his 40-plus years in the industry, his work on NPGA's Technology, Standards and Safety Committee, as well as his chairmanship of the National Fire Protection Association (NFPA) Technical Committee on LP Gas allowed him to contribute to propane safety in significant ways. Linder was the primary force behind the concept of redundant fail-safe product control measures in bulk storage facilities. This concept was adopted into NFPA 58 and is the basis for the Fire Safety Analysis Manual. Though Linder was unable to attend the event, the 2018 inductee expressed his thanks for being honored with this award.
"Foremost, I would like to express my gratitude to the industry for the opportunities it has given me through the years," Linder says. "As someone who had a high school diploma, I was looking for a career path and the propane industry provided that. The great thing about the propane industry is, it was always challenging, never dull, and populated with some really great people. I am not only thankful for my career in this industry, but now very thankful for this recognition."
It is perhaps no surprise that Weidie is the youngest member to join the Hall of Fame. He has spent his entire career with Blossman Gas, pioneering and advocating for new uses of propane and looking for unique ways for companies to grow their gallons. He is a vocal advocate for industry advancement and is committed to promoting the overall benefits of propane.
"We work in an industry that sells a great energy source and we have great products," Weidie says. "I predict that if we invert our thinking a little bit, if we start trying to sell the products that use propane as opposed to just delivering the gas, then I predict we are going to enter a period, a new renaissance, and a period of great growth for propane in this country. Our companies and industry can grow and prosper if we do what is strategically right and not always immediately profitable."
Roy Willis' name is almost synonymous with PERC. Under his guidance as its first president and CEO, the council produced public education campaigns, safety and training programs, and a research and development portfolio that helped incubate and commercialize a wide array of propane-powered vehicles, appliances and equipment.
"This honor comes not from anything I've done, but that association with the people who are already in the Hall of Fame," Willis says. "And the people in this industry who someday will be in the Hall of Fame. I've been privileged to work with many of them."
---
LP Gas Hall of Fame members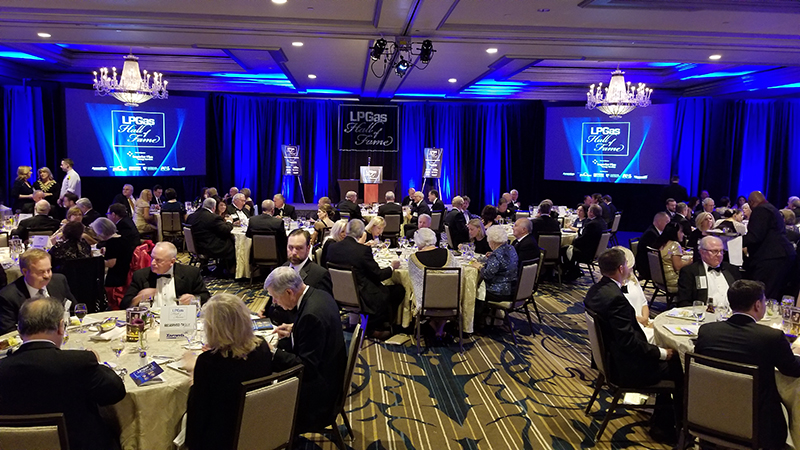 The additions of Bill Clark, Al Linder, Stuart Weidie and Roy Willis take the total number of LP Gas Hall of Fame inductees to 36. The Hall of Fame launched in 2012, propane's centennial year, as a way to honor the legends, icons and leaders who have helped establish, advocate and grow the industry. The Hall of Fame is open to any living or nonliving propane industry employee, working at any level of his or her company, or having retired. Here's a list of current Hall of Famers.
Mark Anton, Suburban Propane
James E. Bertelsmeyer, Heritage Propane
Eugene V.N. Bissell, AmeriGas
John Blossman, Blossman Gas
Bill Byrne, Warren Petroleum Co.
John D. Capps, National LP-Gas Association
Ronald "Zane" Chastain, LP Gas magazine
Bill Clark, Butane-Propane News
James Ferrell, Ferrellgas
William C. Hill, Pargas
Herbert V. Hills, Imperial Machine Products Co.
Casey Jarvis, JARCO
Walter H. Johnson, Liquefied Petroleum Gas Association
Stewart Kean, Utility Propane Co./World LPG Association
Theodore Lemoff, National Fire Protection Association
Elbert "Al" Linder, Coast Gas
Robert Y. Love Sr., Lampton-Love Inc.
Daryl McClendon, DFM Enterprises
William B. McHenry, Pro-Gas Sales & Service
Sam McTier, McTier Supply Co.
Glenn Miller, Miller's Bottled Gas
Daniel N. Myers, National Propane Gas Association
Robert Myers, Petrolane
Robert B. Nicholson, Eastern Propane Corp.
Thomas Nunan Jr., Suburban Propane
Darrel Reifschneider, Manchester Tank
Charles Revere, Revere Gas
Charles Sawyer, Sawyer Gas
Walter Snelling, American Gasol Co.
Milford Therrell, Squibb-Taylor Inc.
Emerson Thomas, Continental Tank Car Co.
John Wallace, Petrolane
Stuart Weidie, Blossman Gas
Dwain Willingham, Propane Resources
Roy Willis, Propane Education & Research Council
William Young, Superior Energy Systems
Clara Richter was a managing editor at LP Gas magazine.