Supplier repurchases LP gas rail terminal
United Pacific Energy, a wholesale propane supplier, made a big move this year when it purchased an LP gas rail terminal in Bakersfield, California.
The purchase boosted the company's business by bringing its total number of terminals to four. The acquisition also brought the terminal back into the family business, as Wayne Harlan, father-in-law to United Pacific Energy owner David Humphreys Sr. and grandfather to sales manager David Humphreys Jr., built the terminal in the 1970s.
"It means a lot having this terminal back," Humphreys Jr. says.
Harlan built the terminal in 1976 to serve Coast Gas, his propane business that was increasing its wholesale business at the time. The terminal then featured 35 40,000-gallon tanks and 30 transports.
"That became one of the few propane terminals in California at the time," Humphreys Jr. says. "It was one of the first rail-to-storage terminals, too."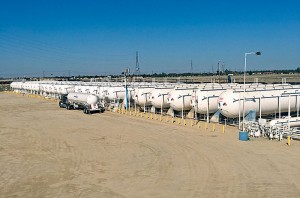 About a decade later, Harlan sold Coast Gas along with the Bakersfield terminal upon retirement because Humphreys Sr. was not quite ready to take ownership of the business. Humphreys Sr. worked as a propane delivery driver, a service technician and retail manager until he started United Pacific Energy in 1990 as a propane wholesale business. The business grew steadily every couple of years; it started with one man and today has more than 40 employees.
Humphreys Jr. joined his father at United Pacific Energy in 2012 after graduating from college. Upon entering the business, he recalls asking his father whether he would ever consider purchasing Harlan's terminal back if the opportunity arose.
"He told me, 'That will never happen,'" he says.
Yet in May 2016, Enterprise Products Partners announced plans to sell the Bakersfield terminal. The company immediately approached United Pacific Energy about the opportunity. By the end of June, the property was back in the family business.
"It was a fairly quick transaction," Humphreys Jr. says. "We wanted to close it quickly, as we had missed the contract season for the year."
United Pacific Energy rehired all seven people working at the Bakersfield terminal. Humphreys Jr. says one of those employees even worked for his grandfather in the Coast Gas days.
Today, the Bakersfield terminal features three unloading racks for railcars and six truck-loading racks. And despite a late start in signing contracts for winter, things have gone smoother than expected, Humphreys Jr. adds.
"My dad told me a while back when we were walking the Bakersfield terminal grounds with some employees, 'I swear, your grandfather told me things would be OK – it would all work out,'" Humphreys Jr. says. "It was cool that he got that feeling from being out there at the family terminal again."
---
LOCATION: Reno, Nevada
FOUNDED: 1990
OWNER: David Humphreys Sr.
EMPLOYEES: 40
SPECIALTY: Sells and delivers wholesale propane in four states, with four terminal locations and 10 transports.
Megan Smalley was an associate editor at LP Gas magazine.