Surge in RV sales presents opportunities for propane
After several weeks of staying home to curb the spread of the new coronavirus this spring, many Americans are eagerly hitting the road for their summer vacations.
But travel looks different this year as the pandemic persists: Instead of getting on planes and staying at hotels, many are looking to the outdoors as a safe space to socially distance.
It's a major reason why recreational vehicles (RVs) are flying off the lots, according to dealers and businesses like U-Haul that serve RV customers.
"We're hearing from dealers that they had record sales in May and broke record sales in June," says Monika Geraci, senior manager of marketing strategy and operations at the RV Industry Association (RVIA).
Blake Perez, hitches and towing accessories brand manager at U-Haul, estimates the company is seeing a 150 percent increase in RV usage based on the performance of RV-related business lines like fifth wheel hitches, weight distribution kits and bracket kits.
U-Haul is also seeing more propane sales to RV customers, says John Barnett, propane program manager.
Since most RV appliances run on propane – whether it's a propane-powered cooktop, furnace, grill, refrigerator, hot water heater or generator – higher RV sales inevitably lead to higher propane sales, he explains.
In fact, U-Haul got its start in the propane market in the 1980s through an RV rental business. When the company rented RVs, it could also fill customers' propane tanks on-site as a value-added service. U-Haul eventually exited the RV rental business, but the propane business remained. The company continues to serve RVers with propane, as well as other services.
The story of U-Haul's involvement in the RV and propane industries illustrates propane's long history as the energy source of choice for RV appliances. Well before the pandemic, propane's ability to provide portable, self-contained power in remote locations made it the ideal fuel for RVs.
Today, propane's benefits in the RV market are more apparent as Americans seek to get away in the comfort – and safety – of a home away from home.
RV sales spike
When governors around the country issued stay-at-home orders in March, RV manufacturers shut down production. Virtually no sales occurred through the beginning of May, says Geraci.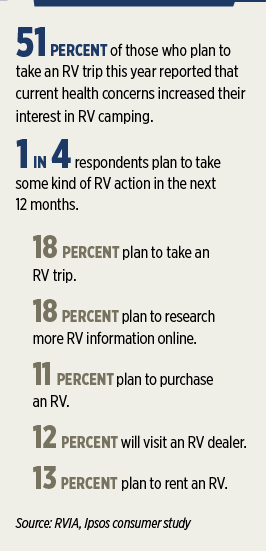 Now RV manufacturers are operating at full capacity and, in some cases, extending shifts to replenish inventory. Many dealers tell the RVIA they have 40 percent of the inventory they had at the beginning of May, Geraci says.
But this doesn't mean RV sales will break records for the year, she adds.
The association forecasts annual RV shipments quarterly. The latest forecast – published in early June – predicts shipments will be about 20 percent lower in 2020 (321,600 units) than in 2019 (406,000 units), as the industry recovers from six to eight weeks of stalled activity.
According to the analysis, the economic impact of the coronavirus pandemic is expected to constrain shipments, while RVs' reputation for providing a secure travel environment will benefit shipment totals.
The next forecast, scheduled for late August or early September, will take into account whether news of soaring sales from the field will translate into longer-term gains for the year.
"We do think it's a longer-term trend that's more to do with the pandemic … We're definitely hearing from dealers that there are a lot of first-time buyers and that these aren't sales just making up for downtime," says Geraci.
The results of a survey conducted by Ipsos, in partnership with RVIA, reinforce what the RVIA is hearing from dealers. According to the survey – which examines consumer interest and planned action on travel choices in light of the pandemic – 46 million Americans plan to take an RV trip in the next 12 months. To put that in perspective, there are currently 11 million RVers, says Geraci.
In addition, 20 percent of U.S. survey respondents indicated more interest in RVs as a recreational travel option in the aftermath of COVID-19 – the highest of any option tested – over car and tent, cruise, car and rental stay, and air and rental stay.
Market versatility
Going forward, propane sales to the RV market will depend on a number of variables, including the longevity of the pandemic and consumer behaviors post-pandemic.
For the short term, at least, propane marketers should expect to sell more gallons to RV customers, whether RV dealerships, RV parks, campgrounds or individual RVers looking for a fill-up at a propane operation.
Some of these customers may be new RVers – who tend to use their RVs more at first than they will, on average, over the lifetime of the vehicle – and others will be seasoned RVers, explains Bryan Cordill, director of residential and commercial business development at the Propane Education & Research Council (PERC).
This dynamic – a spike in the number of new RVs and ongoing usage of existing vehicles – will determine the demand pattern for propane over time.
"We would see a short-term increase in first-time sales, but we would also expect a trailing increase in sales as people that had RVs are using them as much or more," says Cordill.
The number of new RVs sold and intensity of use of RVs already on the road depend on the extent to which social distancing remains a priority and whether RV users during the pandemic stay active once the rate of infection subsides.
The trajectory of these factors is difficult to predict, Cordill admits: "We would anticipate that trend would continue for maybe two to three years until we see if there's a return to pre-COVID activities or if there is indeed a new normal."
What remains certain is propane's wide-ranging use in RVs, which themselves vary significantly in size and amenities.
Though RV manufacturers do produce all-electric options, the vast majority of RVs – both motorhomes and towable campers – use propane to power appliances, says Geraci of the RVIA.
Propane helps ensure all RVs – regardless of the particular features – are built to a self-sufficient, self-contained minimum standard, says Cordill.
RVs typically include a gas range and a dual-fuel refrigerator, water heater and furnace. The dual-fuel appliances allow RVers the flexibility to hook up to electricity when it's available but to remain fully functional when electric hookups are scarce or unavailable, as is the case in many state and national parks.
Propane can also fuel generators that power lights and air conditioning units, but some of the larger motorhomes use diesel from the engine tank, says Cordill.
In addition, propane may benefit from a trend in RV design toward an enhanced home-like experience with more appliances like washers, dryers and outdoor kitchens. These options provide additional burner tip opportunities for propane.
Larger RVs, for example, are using two furnaces, which require more propane, notes Bruce Hopkins, vice president of standards with the RVIA.
Serving customers
Propane retailers can take a few steps to prepare for more RV customers this summer and beyond.
For one, retailers should understand the particularities of handling propane safely in an RV and communicate those safety messages to customers.
"As we get into filling up more RVs, we need to get into RV safety," says Barnett. "Our everyday consumer for RV propane may not understand propane because they're not using propane in their house."
He recommends educating consumers about installation and replacement of carbon monoxide and explosive gas detectors, as well as the proper procedure for pilot lights.
Hopkins of the RVIA notes that propane can expand throughout the day with travel. If a container is filled in the morning in a cool environment, the propane will expand with road heat and increases in ambient temperatures during the day. It is important propane retailers be mindful of overfilling, even with overfill protection devices, he says.
PERC's RV safety literature is a useful resource retailers can consult and hand out to consumers, Barnett notes.
Good customer service is also part of the equation.
"Have a plan in mind before a customer from out of state comes to your facility and says 'I need service,'" says Cordill.
That means making it convenient for traveling customers to visit a location. Make lots easy for RV drivers to maneuver, and designate a space for customers and their pets to step out of the vehicle so containers can be filled safely.
RV enthusiasts will share comments about good and bad experiences in social media groups, Cordill adds.
Marketers shouldn't miss the opportunity to tell propane's story to RVers, says Cordill: "It's another great example of how the dependability, portability and resiliency of propane play an important role in everyone's life."