2017 LP Gas Rising Leader: Sarah Knight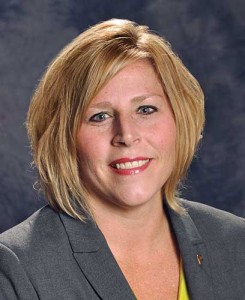 Vitals: Age 42; vice president of customer experience and employee development at Ferrellgas in Iowa City, Iowa
Years in the propane industry: 13
Please describe your role and responsibility, as well as your vision, in growing your company and connecting with propane customers of today: My team and I work alongside Ferrellgas team members in both our operation and corporate teams to support employee development, including training, coaching, mentoring, professional development and team development. We're dedicated to their personal and professional development and with fostering expertise and career growth. On the customer-experience side, my team focuses on fostering a culture of mindful customer service, where every team member is aware of their impact on the customer experience.
Propane industry opportunities and threats: The research and development on new uses is exciting, and uncovering that next new use for propane is vital. But I honestly believe the biggest opportunities are with our existing customers. If we are to build strong relationships, we have to look differently at how we interact with our customers and ask if we can continue to improve the way we communicate and educate our customers about propane so that when, for instance, they build a new house they will choose us. … The rapid growth of natural gas pipelines is one significant threat, and the broadly held perception of propane's price volatility is another. We need to do a lot of work to build confidence in our industry and to battle other energy options that appear stable in comparison.
How then can the propane industry prosper in the coming years? Our best approach is to educate our consumers and future consumers to keep them informed about what propane has to offer and why it is the best option for their family and their business. The goal should be to always make propane a factor in any informed energy decision.
What does your generation offer to the propane industry that previous generations did not? Our generation is in the fortunate position of not growing up in the technology whirlwind that my children are growing up in because we have experience in traditional interpersonal communication skills. We are able to coach our teams, clearly share our thoughts and ideas and work with others in a collaborative way. We had to communicate face to face because we couldn't rely on hiding behind a text, a tweet or a Facebook comment. But we also rode out the technology explosion and the rise of social media in our 20s and early 30s, so we are comfortable communicating electronically. You could say that we're bilingual in that way. Because we're comfortable in both channels, we can mix the two to effectively build very strong relationships – and this industry is all about relationships.
What technologies are you using (or plan to use) to support business operations? We use the same technologies that are available to companies large and small across the country. We're just trying to use them differently to empower conversations between our employees and our customers.