2019-20 merger and acquisition activity
Here's a look at the movement LP Gas kept tabs on over the past year, with acquiring companies in bold. Note: Some companies chose not to disclose their acquired companies.
Industry players also explained how they expect the coronavirus pandemic to impact merger and acquisition activity going forward – learn more here.
Correction: ThompsonGas acquired All American Propane (Washington), APP Propane (Washington), Energized Gas (Florida), Laytonville Gas (California) and Quality Propane (Wisconsin). A formatting error that misrepresented ThompsonGas' acquisitions has been corrected. 
---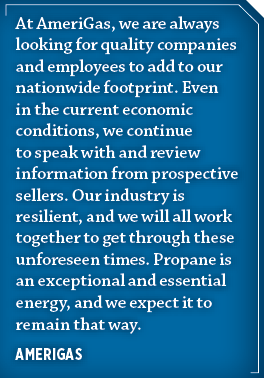 Agtegra Cooperative
North Star Energy – Aberdeen, South Dakota
All Safe Global
Thunderbird Cylinder – Phoenix
Anova
Intelligent Sensing Anywhere – Coimbre, Portugal
Silicon Controls – Macquarie Park, Australia
BantamWesson
Arbor Energy – Cheshire, Connecticut
Blevins
Tri-State Distributors – Royston, Georgia
Blossman Gas
A & A Gas – Carrollton, Georgia
Stateline Gas – Ranburne, Alabama
Youmans Gas & Oil – Hollywood, South Carolina
Brody Newton (individual)
Buster's Propane – Corpus Christi, Texas
Co-Alliance
Superior Fuels – Newton, Illinois
Connecticut Propane & Petroleum
Phoenix Propane – Oxford, Connecticut
Crystal Flash
Kohley's Superior Propane – Muskegon, Michigan
DCC
Pacific Coast Energy – DuPont, Washington
Eastern Propane & Oil
Viking Propane – Candia, New Hampshire
Wolfeboro Oil – Wolfeboro, New Hampshire
Energy Distribution Partners
Ehrhart Energy – Trumansburg, New York
Fallbrook Propane Gas – Fallbrook, California
Kent Oil & Propane – Nashville, Michigan
Pacific Propane – Castroville, California
Undisclosed – South Carolina
Ferrellgas
AAA Propane – Pagosa Springs, Colorado
Golden State Propane – Shingle Springs, California
Van Duzer Gas Service – Southold, New York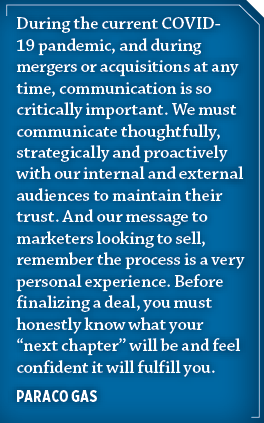 Forward Energy
Hirschman Oil & Propane, propane division – Reese, Michigan
Koppy's Propane
Snedeker Oil – Lewistown, Pennsylvania
Makeen Energy
Gas Equipment Co. – Dallas
McKinsey and Adam Gazapian (individuals)
WB Sales – Portage, Wisconsin
Meritum Energy Holdings
3 acquisitions
Offen Petroleum
Bosselman Energy and Bosselman Carriers – Grand Island, Nebraska
Phoenix Park Gas Processors Ltd.
Twin Eagle Liquids Marketing – Houston
Pinnacle Propane
Cleburne Propane – Texas
West Gas Service – West, Texas
Quarles Petroleum
Papco, propane business – Virginia Beach, Virginia
Rochester Gauges
Fozmula – Warwick, U.K.
Sail Energy
Hometowne Energy – Brockport, New York
Sharp Energy
Boulden Brothers Propane – Newark, Delaware
Star Group LP
Southern Maryland Oil – La Plata, Maryland
Stone Road Energy
Depew Energy – Newburgh, New York
Thomas Brothers Oil & Propane – Yanceyville, North Carolina
Suburban Propane Partners
Blue Sky Propane – New Braunfels, Texas
Drake Gas Co. – Royston, Georgia
East Bay Propane – Oakland, California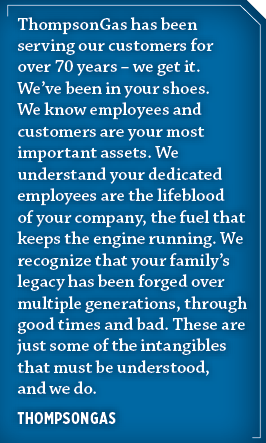 Superior Plus Propane
Peninsula Oil & Propane, propane distribution assets – Seaford, Delaware
Red Springs Oil, propane distribution assets – North Carolina
Sheldon Gas, propane distribution assets – Suisan City, California
Western Propane Service – Santa Maria, California
Team Drive-Away
IXT Logistics – Kansas City, Kansas
Transportation Booking Services – Kansas City, Missouri
Terravest Industries
Iowa Steel Fabrication (Countryside Tank and Majona Steel) – Osceola, Iowa
ThompsonGas
All American Propane – Yakima, Washington
APP Propane – Tacoma, Washington
Energized Gas – Port St. Lucie, Florida
Laytonville Gas – Laytonville, California
Quality Propane – Chippewa Falls, Wisconsin
UGI Energy Services
Columbia Midstream Group, equity interests – Canonsburg, Pennsylvania
Sources: LP Gas research, Cetane Associates, CK Business Consultants, Matrix Capital Markets Group, Propane Resources
---
Navigating the acquisitions process: One seller's experience
Revere Gas had been in Carlton Revere's family since 1942, when his grandfather established the business. So, when the time came, Revere and his family gathered around the dinner table to decide what was best for the next generation.
"It struck us in 2017, when we were acquiring two other marketers, that a fourth generation was a possibility but not a certainty," says Revere.
Ultimately, they chose to let Revere's three sons and his brother's two pursue their own paths.
With the decision to sell made, Revere and his family educated themselves about the process. They hired a consultant outside of the propane industry to help determine the right time to sell and then selected advisers to help manage the transaction.
Revere suggests sellers find three key advisers: a broker, an attorney and a tax accountant.
If you're selling a family-owned business, says Revere, select advisers who understand the emotional side of the decision to sell. When emotions run high, advisers can help guide you back to the legal and financial realities of the transaction, he explains.
Revere also suggests hiring an attorney who has experience with mergers and acquisitions. Your family's or business' attorney may not have that background.
While some sellers contact certain buyers directly, Revere believes the limited auction process, in which the seller reaches out to a select number of buyers and asks for the best price, is the most transparent.
"You have to be prepared to collect all the data" during this process, says Revere. "You may have co-workers or employees you need to bring into the discussion to help pool the data."
Revere Gas negotiated retention agreements with employees who were involved in that process to compensate them for staying with the company and for confidentiality – a valuable suggestion from the broker, says Revere.
During the final stages of the sale, Revere recommends signing a contract that sets a closing date within a certain amount of time. He found this process much less stressful than exchanging funds and handing over the keys immediately because both Revere Gas and the buyer – Quarles Petroleum – had time to communicate with employees.
Plan what you're going to do next, too, advises Revere.
"Going from 120 mph with owning and operating a business to suddenly hitting 55 mph can be difficult," he says. "You've worked your whole life, and you're going to get a large return. What do you want to do with it: recreate, reinvest, start another business?"
---
Carlton Revere can be reached at carltonrevere@gmail.com or 804-776-6834-x902.
Featured image: LP Gas staff