Merger and acquisition activity expected to remain robust
LP Gas published a comprehensive list of acquisitions completed over the past year here. 
---
As COVID-19 began to spread in communities and governors issued stay-at-home orders, industries around the country braced for the economic fallout.
But the propane industry has shown resiliency during this time due to the essential nature of fuel delivery. As the initial uncertainty fades and propane companies grow more confident they can withstand the challenges ahead, many business functions proceed, including merger and acquisition activity.
Fundamental conditions in the U.S. propane market support consolidation, and have for some time. A sizeable pool of small business owners who are headed for retirement or under other pressures are ready to sell. And larger players are looking for opportunities to expand.
Couple that with favorable financial conditions for both buyers and sellers, and merger and acquisition activity has advanced at a strong pace.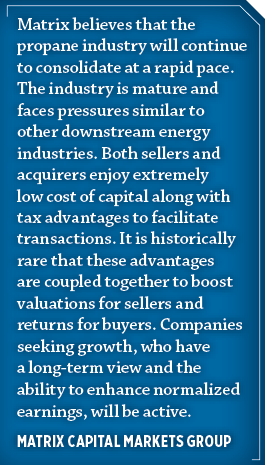 Recently, propane companies have seen solid gallon sales, low fuel prices and good margins, which support the ability of sellers to market their businesses and buyers to pursue acquisitions.
Broader economic conditions like low interest rates, which help companies finance purchases, and a favorable tax code have also been supportive, says Spencer Cavalier, co-head of the Downstream Energy & Convenience Retail Group at Matrix Capital Markets Group.
While coronavirus has introduced some logistical challenges and economic uncertainty, industry players expect favorable conditions to persist and continue to drive robust merger and acquisition activity.
"We've seen an uptick in activity, and that's something that I plan on continuing to see despite the pandemic," says Marty Kirshner, chair of the Energy Industry Practice Group at Gray, Gray & Gray, an accounting and business advisory firm.
Short-term disruptions
Deals that are under contract and headed toward close continue to move forward with some potential delays, says Cavalier.
While some processes, like verification of financial information, can proceed electronically, due diligence inspections of physical assets may be put off due to limits on face-to-face interaction.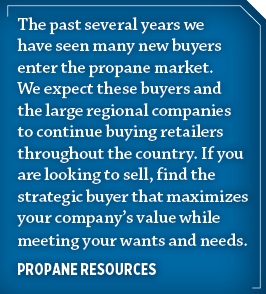 "Someone must physically look at the trucks, the bulk storage facility, consumer installations, customer files and various other items," says Cooper Wilburn, a consultant at Propane Resources.
Cavalier notes surveyors or environmental consultants may still be able to work because they are deemed essential, but deals at this stage could still take longer than usual to close.
According to Wilburn and Cavalier, transactions in the offer stage are also moving forward, largely unimpeded.
"As long as the retailer can gather the information and send it electronically, buyers are still able to review the information and submit offers electronically," says Wilburn.
Deals that were ready to go to market, however, were most likely postponed as governors around the country activated coronavirus control measures.
"We have six companies that were ready to come on the market and were going to start coming on the market in March, and we held off all of them until we got a better feel for what's happening," says Steve Abbate, managing director and owner of Cetane Associates.
But he expects to place these companies on the market soon, as propane businesses settle into their coronavirus response plans and continue to operate despite the disruptions.
Cavalier says his firm also postponed deals at this stage but expects that won't last long, as the marketing and evaluation period provides some lead time to reopen the economy.
"You can launch something thoughtfully in May or June because it's going to take a period of time to get done, and by the time we get to where the economy is back open, there should be nothing that slows the deal," says Cavalier.
Abbate says he's seen a few private equity-backed buyers withdraw offers because of financial difficulties related to COVID-19. But that doesn't necessarily bode ill for competitive bidding. In these cases, the firms' investments outside of the propane industry, in hard-hit industries such as hospitality, motivated them to withdraw. The buyers that remained submitted strong offers and were prepared to move forward, Abbate explained in a presentation to industry members in early April.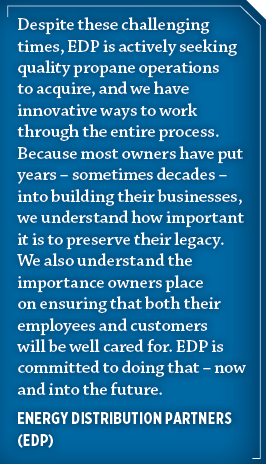 "We're feeling pretty good about that, that this will not negatively affect value or activity in this industry," Abbate said.
Those buyers that continue to pursue acquisitions do so with some tweaks to their workstyles.
"We have seen no noticeable decline in activity," says David Stroupe, vice president of corporate development at Energy Distribution Partners (EDP). "We have adapted to the current restrictions by interacting with sellers through video conferences and electronic data rooms, and have developed a course of action to progress through the various stages of the acquisition process."
For Ferrellgas, in-person networking and traveling to meet prospective sellers has been put on hold, and in some cases, business owners may take longer to transmit information because of coronavirus-related challenges, says Chad Pendill, director of business development. "For the most part, though, information gathering is normal," he adds.
Managing uncertainty
Economic uncertainty may raise questions about timing and opportunity for companies that are considering a transaction in the future.
"When there are volatile social and economic conditions, a reduction in M&A activity would be expected as many buyers and sellers move into a 'holding pattern' until we receive more information about how those conditions will affect our industry," says Daniel Dixon, group director of business development at AmeriGas.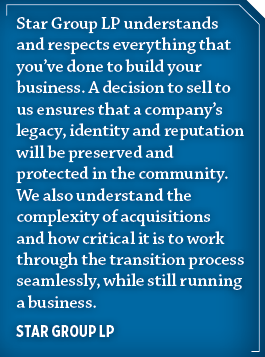 "Recession" looms in the minds of many during this time, but the extent to which an economic downturn would affect merger and acquisition activity in the propane industry depends on scope and severity.
The greatest risk to merger and acquisition activity "would simply be a drawn-out economic recession, which could negatively affect the amounts of propane volumes sold, accounts receivable collections and potentially margins," says Cavalier. "Thus, the buyers would be more hesitant and less confident if they view that as a long-term economic condition."
During a prolonged recession, banks could also tighten credit, which would negatively impact buyers' ability to finance transactions, says Abbate.
While no one can say for certain how the pandemic will impact the nation's economy in the long term, propane companies can track a few relevant variables:
COVID-19 has hit some geographic areas harder than others. High unemployment in popular vacation spots like Las Vegas and Orlando will likely affect local propane businesses negatively, explains Abbate.
However, the majority of propane businesses are removed from urban hot spots, which shields the industry as a whole from the worst impacts, says Gary Papay, principal of The Oil & Gas Advisor.
Stay-at-home restrictions hurt some market segments more than others. "Look at your product mix," Abbate advises buyers. "I think residential propane customers will either retain their value or increase the value of those accounts. But be cautious of commercial – particularly in industries that are affected most such as hospitality."
Low oil prices may pose a threat to propane supply and pricing. A coronavirus-related drop in demand for crude, which led to oversupply, and the expiration of the May 2020 West Texas Intermediate contract caused oil prices to plummet to historic lows. If oil production – and thus propane production – slow in response, the price of propane may rise due to limited domestic supply.
"If prices spike and remain high, this will put a strain on working capital and it would likely devalue propane companies," says Abbate.
Abbate cautions companies thinking about selling to keep operating expenses low to maintain the value of the business during times of uncertainty: "They should be very cautious that the profitability of their business stays where it is."
But if business suffers temporarily, he anticipates the possibility of adjustments to gross profits or operating expenses during the valuation process to account for extraordinary circumstances.
Recession resistant
The propane industry appears to be weathering the initial phases of the pandemic well, as companies continue to deliver fuel to homes and essential businesses.
"The delivery of propane, when I've talked to clients, remained pretty steady," explains Kirshner. "The margins remain very strong, so it's not impacting companies as badly as we had anticipated."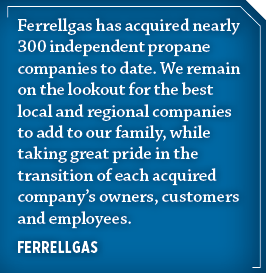 As long as consumption remains steady with healthy margins, the value of acquisitions will persist, he adds.
The industry is better positioned to withstand economic downturns because it provides a utility service, pointing to a greater likelihood that merger and acquisition activity will continue even if the economy lags.
The stability of the retail propane market may even attract new buyers, explains Wilburn.
"The propane industry is a defensive play in nature," he says. "The retail propane industry is a fairly recession-proof industry; people still need to heat their homes, cook their food and heat their water."
Propane companies in planning stages should also keep in mind that, in the long term, the pandemic won't affect some of the fundamental drivers of merger and acquisition activity.
"The basic drivers of M&A for the industry are there – this is a consolidating market No. 1, and it will continue just because it's so fragmented with so many family companies," explains Cavalier.
Even in the near term, activity moves forward for reasons that are unrelated to the coronavirus pandemic, such as tax advantages.
"We have not heard from any sellers that their motivation to complete a transaction has changed," says Stroupe. "On the contrary, several have expressed concerns with potential modifications in corporate tax treatment if a change in the administration occurs during the upcoming elections. We expect to remain very active in the coming months."
In short, propane companies have a variety of motivations to continue pursuing merger and acquisition activity, even as the industry – and industries around the country – wait to see how the economic repercussions of the pandemic play out.
"My personal view is that when this thing is over, people will look at this industry and say that's an industry I want to invest in because it's recession resistant, and even [with] something like this, they can weather the storm and come out ahead," says Abbate.
Advice from advisers
Cooper Wilburn, Propane Resources
Buyers: "Buy companies that deliver primarily to residential customers, have strong cash flow and a good history of customer retention."
Sellers: "It is important to get your company's records in order for accurate presentation to buyers. Hire someone so they can help you find the strategic buyer for your company."
Gary Papay, The Oil & Gas Advisor
Buyers: "Approach it as business as usual – continue with your efforts. We are still getting calls and contacts from buyers looking for opportunities."
Sellers: "I know it was a weak winter up here in the Northeast; the degree-days were off, so gallons are off some, but I would suggest people move along with the plans they have in place."
Marty Kirshner, Gray, Gray & Gray
Buyers: "Brace yourself for a hot market. Be prepared for higher multiples of EBITDA and margins than you may have been used to seeing or hearing. It's going to get very competitive. Don't be deceived by the economic downturn."
Sellers: "Be patient. Wait for the best offer. But keep in mind that the best offer might not be the most lucrative offer. … Make sure that any potential financial hiccups that you have encountered during this pandemic are fairly accounted for in the due diligence process."
Spencer Cavalier, Matrix Capital Markets Group
Buyers: "If you have a long-term goal and a well-thought-out business plan of what you can do with a company, you should pay the offer price in terms that are not impacted by COVID-19. That doesn't mean you don't have to worry about the next couple years and what can happen, but this industry has been resilient in other down cycles, and I think because it's a utility that everybody needs, I think it's going to still be a rather strong recurring cash flow stream for most companies."
Steve Abbate, Cetane Associates
Buyers: "A good investment in a propane business is still a good investment. They should look at adjusted results where business may drop off but it's something that will likely come back. Be very cautious of accounts receivable. … Do your due diligence and make sure there are no long-term effects."
Sellers: "Be very cautious to keep margins at a level that they have enough profit to get through this time. … Be very cautious that profitability stays where it is, and understand adjustments to EBITDA and operating expense."
Coronavirus survey
In an effort to measure the impact of the coronavirus pandemic on retail propane businesses, LP Gas issued reader surveys April 3 and April 9, which drew nearly 200 responses.
The vast majority of respondents (91.8 percent) said the pandemic did not change their thinking about buying or selling a company, suggesting that many are staying the course as far as merger and acquisition activity is concerned.
"We would always welcome opportunities for acquisitions or selling if the multiple is right," says one respondent.
A few of the survey takers who indicated that COVID-19 has led them to consider selling clarified the pandemic was not the sole reason for the decision – other factors were already exerting pressure.
"We were already tired, and now with this mess, it just feels like it is time," explains one respondent.