2019 LP Gas Rising Leader: Brian Sora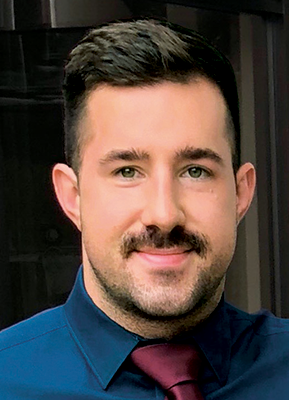 The essentials: Age 29; director of operations at DiLeo Gas Inc. in Worcester, Massachusetts
Years in the propane industry: 3
How did you get your start in the propane industry?
I was originally offered a position three years ago from Paul and Harry DiLeo, two brothers who had recently purchased their father's propane company. Their vision was to increase the organization's market share with an aggressive growth strategy that would require more management assistance and an outsider's perspective. My work background was in operations and sales, and because of this they thought I would be able to successfully wear the multiple hats they would need. After researching a bit about the industry and sharing the same management philosophy with Paul and Harry, I quickly accepted the position. I began mostly working with customers and scheduling deliveries, as well as other office manager-related roles. I quickly learned the ins and outs of the propane industry, and that helped me increase my role to other aspects of the business – like inside sales and managing the installation and service teams. By completing my graduate studies and receiving my master's while working full time, I was able to apply what I learned to the business in real time, and soon increased my role in the organization to where it is today.
What is your vision for growing your company and how can you as an individual help to achieve that vision?
My vision for DiLeo Gas is to become one of the largest U.S. retailers while still delivering the family-owned service we have for over 25 years. We understand this is no small feat, but we have a dynamic group of talented employees from all departments that span multiple generations [and] that will provide the infrastructure needed to attain a long-term goal like this. Internally, we need to ensure that employees from all departments and all generations are aware of the company's vision and make sure everyone is working together functionally.
Externally, we want to continue to have personable interactions with our customers, treating them with the respect they deserve while increasing automation for payments and scheduling for those that are savvy with newer technology. This way, we can decrease the amount of busy work while making room for increased interactions with customers as our base grows.
How can the propane industry prosper in the coming years?
The industry can prosper if it actually listens to perspectives from younger professionals in the industry. Propane has done a great job of increasing the female presence in the industry with its Women in Propane initiatives, something that was long overdue. We need to continue to keep finding ways to better ourselves as a collective unit, and I believe this is the next one to assure we prosper in the years to come. Outwardly, the propane industry still has a lot of opportunity in increasing awareness to new homeowners to its benefits compared to other fuel sources. Even with the steady amount of growth we have seen in New England with propane new construction homes and heating conversions to propane, there is still a general lack of awareness regarding it, or a lack of information. I'm very proud of the dedication our industry has taken to safety, and with the infrastructure issues with natural gas Massachusetts witnessed firsthand this past year our industry should see this as time to further spread awareness as to our product offerings, and that propane really is a family product. There are many opportunities to be had with newer ventures like autogas, but we are still leaving a large piece of market share that is the home heating market that can be attained very quickly if we do our job of showing our superiority over competing sources.
What does your generation offer to the propane industry that previous generations did not?
The most common culture within the organizations of generations past were very hierarchical, with formalized organizational structures designed to facilitate a low-cost management strategy. While structure and preventing wasteful spending is important to an organization, this culture can sometimes be shortsighted, and changes rarely occur. My generation tends to work best in a collaborative culture, where organizations are committed to human development and employee fulfillment. This type of employee works well with organizations and leaders with vision, where they can together help foster innovation and accept change as a constant, something technology dictates we all must do to succeed. My generation has witnessed entrepreneurs like Mark Zuckerberg (Facebook) and Evan Spiegel (Snapchat) create billion-dollar companies at very young ages. This has developed an overall belief that one can be capable of being great at any age. This mindset can lead to burnout where an employee goes from maximum effort to little or none if put in a position where they cannot grow. But if they are given the opportunity for professional development and further fulfillment, then those of my generation have the capacity to do great things for this industry.
What specific technologies are you using (or plan to use) to support business operations?
We have utilized new technology in many facets of our organization over the past few years. Mobile delivery software and routing has increased the communication level we have with our drivers while allowing us to update routes to the most efficient order possible. We've utilized tank monitors for our commercial accounts and newer accounts that we don't necessarily have a good feel for delivery frequency yet. Most recently we have begun to tackle e-automation for the office via online payments, installation quotes and delivery requests. This has greatly lowered the amount of phone traffic bogging down our CSRs while becoming a service leader in our local market with regards to a streamlined customer experience.
Is there anything else you'd like to tell us about yourself, your company and/or the propane industry?
We have been able to recruit and retain many younger-generation employees. In fact, half of our staff is under the age of 33. We have exercised many different marketing and sales strategies to solicit new customers, but proudly our best source of new business still comes from word of mouth. Our employees are all in matching uniforms with new, clean dri-fit polos and T-shirts, and our bobtails are cleaned daily to look brand new. Our neat and organized brand image makes an impression on our customers, as they are constantly asking where they can get some of our apparel, especially our tank tops, which seem to be the favorite.