2021 Propane Expo returns to Atlanta in October
The National Propane Gas Association (NPGA) has restarted the practice of planning for the propane industry's largest trade show.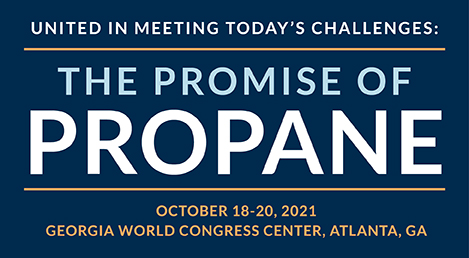 The Southeastern Convention & International Propane Expo's return Oct. 18-20 to the Georgia World Congress Center in Atlanta will mark about 2.5 years since the event was last held in person. COVID-19 forced the cancellation of events in 2020, including the Propane Expo's much-anticipated show in Nashville, Tennessee.
Kristen White, director of conventions and meetings for NPGA, says "undoing an Expo is way harder than planning one" – a phrase that encapsulates what the meetings and events space has endured since March 2020. NPGA made the decision that month to cancel the 2020 Propane Expo and eventually reschedule it for this October in its long-running host city.
"It was one of the hardest decisions I've ever been involved in making in my career," says White, who's spent about 30 years planning meetings, as she recalls NPGA's decision to pull the plug on its flagship event.
White says the meetings and events industry is now "rolling forward with great enthusiasm. Every time I look, another convention is happening."
It wasn't always that way. Convention halls and meeting rooms were quiet for more than a year as industries and companies shifted events into the virtual space. The digital platforms, though unfamiliar to some, worked to fill the void of in-person events, and companies learned new and, in some cases, more efficient forms of communication with employees and customers.
But many recognize that it's difficult to replace a handshake or a face-to-face conversation that takes place on a trade show floor.
"This is still very much a relationship industry," says Chet Reshamwala, CEO of Anova. "[In-person] events are very important."
Opening the doors
Several in-person events on a state and regional level returned this year, including August's Western Propane Trade Show & Convention in Reno, Nevada, and the North Central Convention & Trade Show in La Crosse, Wisconsin.
"People are ready to see each other, talk about what's going on in the industry, connect again and go over key issues that are facing not just our industry but business in general," says Tim Esterling, trade show coordinator at Westmor, who noticed a "pent-up demand" for people to gather face to face while in Wisconsin for the North Central show.
Tom Jaenicke of Warm Thoughts Communications has been to the Western show for multiple years and consistently to the Propane Expo. This year, he says, it was evident how exhibitor companies have continued to develop products throughout the COVID-19 pandemic.
"I'm seeing lots of interesting things that I wouldn't have seen two years ago or weren't in an advanced stage like they are now," he says on the floor of the Reno Events Center.
"That's a primary reason to come to Atlanta – to catch back up on what you missed from staying at home" over the last couple of years.
NPGA based its decision to move the Propane Expo to October 2021 – which it announced in September 2020 – on available convention center dates and host hotel availability in Atlanta, and working to distance the event from rising COVID-19 case numbers at the time. The association is also planning to host its fall board meeting in Atlanta immediately following the 2021 show.
"I'm thrilled we're moving forward and we can be together again," White says. "It's exciting for us to know we're coming out on the other side of this, hopefully."
Steve Kaminski awaits his first Propane Expo since becoming NPGA's president and CEO in October 2019. He acknowledges that 2021 is a unique and challenging year, and says NPGA will make the show "as wonderful as possible" while following health and safety protocols, and supporting its member companies.
Six months later, NPGA will gather the industry again, this time in Nashville, for its regularly scheduled April show.
"We're not dipping our toes back into the water, but we're wading back into the water," Kaminski says of the Expo's October return. "By April, my hope is the industry's meeting schedule will be full steam ahead, and I anticipate it [the Expo in Nashville] being one of the best-attended shows ever."
Schedule of events
Sunday, Oct. 17
8 a.m.-4 p.m.: Targeted & Regular Exhibitor Move-In
12 p.m.-4 p.m.: Registration Open
Monday, Oct. 18
8 a.m.-4 p.m.: Exhibitor Move-In
8 a.m.-5 p.m.: Registration Open
9 a.m.-1:45 p.m.: Concurrent Education Sessions: Groups A-C
9 a.m.-11:45 a.m.: WIP Leadership Forum @ the Expo*
2:30 p.m.-3 p.m.: PERC Update
3 p.m.-4 p.m.: Opening Keynote Speaker: Melissa Stockwell
4 p.m.-7 p.m.: Expo Hall Welcome Reception
Tuesday, Oct. 19
7 a.m.-5 p.m.: Registration Open
7:30 a.m.-9 a.m.: Prayer Breakfast: Bob Upgren*
9 a.m.-10 a.m.: Concurrent Education Sessions: Group D
10 a.m.-4:30 p.m.: Expo Hall Open
10:15 a.m.-4 p.m.: Fast Track Sessions in the Expo Hall
10:15 a.m.-4:15 p.m.: Technical Workshops
3:30 p.m.-5 p.m.: Women in Propane Roundtable
5 p.m.-6 p.m.: Women in Propane Networking Reception
7:30 p.m.-11:30 p.m.: Young Gassers Reception*
Wednesday, Oct. 20
8:30 a.m.-11:30 a.m.: Registration Open
9 a.m.-12 p.m.: Expo Hall Open
9:15 a.m.-11 a.m.: Fast Track Sessions in the Expo Hall
12:01 p.m.-8 p.m.: Exhibitor Move-Out
*Additional registration required
Propane Expo host cities
April 24-26, 2022
Music City Center, Nashville, Tennessee
April 23-25, 2023
Music City Center, Nashville, Tennessee
April 5-7, 2024
Charlotte Convention Center, Charlotte, North Carolina
April 4-6, 2025
Charlotte Convention Center, Charlotte, North Carolina
Feature photo by Craig Huey, Craig Huey Photography
Brian Richesson is the editor in chief of LP Gas Magazine. Contact him at brichesson@northcoastmedia.net or 216-706-3748.