ADD Systems tech conference draws more than 200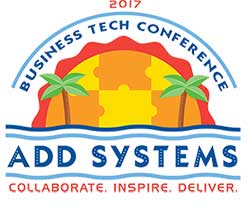 ADD Systems hosted its Business Tech Conference May 16-19 in Lake Buena Vista, Florida.
The event drew a record 250 attendees from more than 100 companies, and it offered a variety of educational sessions covering the company's latest product offerings and best practices for product use in the propane industry.
"This conference that we hold every three years is important to get our clients together so we can collaborate, sit and talk about where the software needs to go and review what accomplishments we've made over the past three years," says Bruce Bott, president of ADD Systems. "It's a chance for our customers to sit and talk with each other and talk to partners and vendors that we invite to the event."
The conference also aims to reveal the company's latest product developments and show customers its plans for the future.
"We've had some significant enhancements over the last three years to our dispatch functionality and our mapping functionality, and to our integration with third parties," Bott adds. "Our business intelligence, which is our reporting functionality, has made major advances over the course of the last three years."
As a part of the conference, ADD Systems gave attendees a rundown on some of its latest products for the propane industry, including its ADD Energy E3 software, Microsoft Dynamics GP financial package, ADD eStore enterprise software application, Atlas Reporting business intelligence solution, Raven mobile delivery solution, Pegasus field service tool, SmartConnect web self-service solution and Process Automation tools.
---
---
For its product development, ADD Systems consults its User Group, which consists of both employees and customers, for ideas, wants and needs. The group also plans for future product development and strategizes ways to gain new customers.
"The millennial generation won't deal with a propane company that doesn't offer a full-blown self-service website," says John Redmond, vice president of product strategy for ADD Systems and liaison for its User Group. "People don't want to pick up a phone and call today. They want to be able to do things on a self-service basis, so we've been doing more and more enhancing that part of our product offering."
ADD Systems updated its products to integrate the technologies its customers deem important to enhance efficiencies.
For instance, energy provider Tevis Energy uses the ADD Energy E3 system for its propane deliveries. This system integrates accounts receivable, credit, delivery, service and inventory, the company reports.
"It [ADD Energy E3 system] really helps for delivery efficiency, particularly in the propane business where customer usage is sometimes more erratic," says Alan Sonnenleiter, COO of Tevis Energy.
Through its updated products, ADD Systems also hopes to improve its partners' customer communications.
"I think what a lot of customers are really trying to do is improve their customer support and provide information to their customers, whether that be via their website, whether that be via messaging services, whether that just be the experience they get when they call somebody on the phone," says Rob Culbertson, senior vice president and COO of ADD Systems. "So providing people who are answering the calls, providing the information on the website or providing the information through these messages is something that has really been a big tremendous change over the last few years in the marketplace."

Allison Kral is the former senior digital media manager for LP Gas magazine.