Alliance AutoGas offers dispenser system for autogas fleets
Alliance AutoGas' Fuel Management Dispenser System is now available to fleet customers.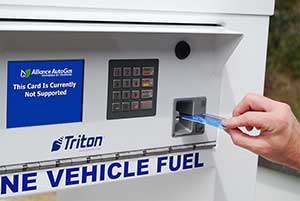 The T3MR Fleet Fuel Management System is designed to help fleet managers monitor and control fuel inventories in real time. It includes a card reader system, data management and real-time communications capabilities, as well as a Staubli low-emission fueling nozzle that emits .4 cubic centimeters of fuel when disconnecting.
The system is based on industry platforms from Comdata, Superior Energy Systems and ATM manufacturer Triton Systems. The unit requires minimal additional infrastructure at the fueling site, integrates cellular-based communications and features a ticket printer and customizable reporting for any size fleet. It offers remotely upgradable software and provides fleet managers with comprehensive and user-friendly reports. Its data and processing functions employ a widely used and accepted payment platform, according to the company.
Photo: Alliance AutoGas