Amerigreen Energy showcases transloading facility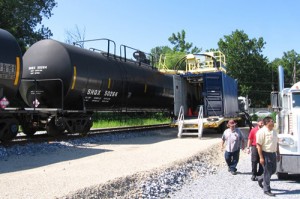 Amerigreen Energy hosted an open house at its propane transloading facility in Avondale, Pa., for propane retailers in the area. Amerigreen Energy, based in Lancaster, Pa., is a wholesale energy provider to the Mid-Atlantic and New England regions.
Amerigreen let retailers tour the facility and talk to its staff, East Penn Railroad staff and insurance providers. Guests could also explore a Crestwood Midstream Partners demo propane transport truck. First responders from the city of Avondale also attended the event to learn more about the site in case of a propane-related emergency.
Photo: Amerigreen Energy