Analysts: Export demand to further impact domestic propane pricing, supply
With propane supply issues front and center this winter, the National Propane Gas Association (NPGA) called upon two energy analysts to dissect the situation during its board meeting earlier this month in Clearwater Beach, Fla.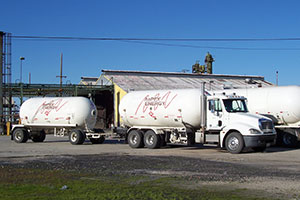 Rusty Braziel of RBN Energy presented to an overflow crowd of about 100 attendees during the Propane Supply and Logistics Committee meeting, while Mike Sloan of ICF International was on hand for the marketers section meeting.
Their messages were consistent: The U.S. propane industry has entered uncharted territory, linked like never before to the international market and subjected to price volatility.
With $4 billion planned in U.S. export facilities over the next three years, propane demand and export capacity are likely to exceed propane supply through 2020, according to ICF International. While it does not necessarily mean the United States will export at full capacity, it does mean the situation abroad will have a greater influence on the domestic market, Sloan said.
"Propane will stay here, but only if the price is high enough," he said.
To which one attendee in Clearwater Beach responded for everyone in the room to hear, "Well, I feel better now."
"It means propane in storage will not automatically be available to the domestic market and seasonal stock buildups for winter demand are not automatic anymore," Sloan added.
Or as Braziel echoed during his presentation, "This is a new world."
This new world has contributed to inventories falling dangerously low, partly due to the United States becoming a net exporter of propane for the first time since the U.S. Energy Information Administration (EIA) began tracking exports in 1973. Exports rose to a record 410,000 barrels per day in November – the latest data available from EIA. Enterprise Products Partners and Targa Resources are the primary propane-exporting companies. Their terminal expansions in 2013 nearly doubled propane export volumes – from 2.6 billion gallons in 2012 to 4.5 billion gallons in 2013, according to ICF International. Five other companies have projects planned through 2016.
These events are happening amid domestic propane production increases – by 1.4 billion gallons in 2013, according to ICF International. The growth stems mainly from natural gas production from the Marcellus and Utica shale plays in the Northeast. LP gas production (propane and butane) from natural gas processing is up 40 percent since 2005, Braziel reports. And ICF International forecasts propane production from North American natural gas liquids to grow from 333 million barrels in 2013 to 628 million barrels in 2025. Much of the excess production is destined for export and petrochemical markets, analysts say.
This new domestic supply of propane also has impacted wholesale prices. Per-gallon prices went from about $1.60 in 2011-12 to 70 cents in 2012-13, "and then the world changed," said Braziel, recounting prices in January skyrocketing to $1.70 at Mont Belvieu and about $5 at Conway. High demand from fall crop drying, cold weather and exports, in addition to various capacity constraints, all tightened supplies and sent prices upward.
When Braziel presented on Feb. 2 in Clearwater Beach, Midwest inventories had plummeted to about 9 million barrels compared to 17 million barrels at the same time last year, according to EIA data. As of Feb. 7, inventories still hovered around 9 million barrels. Meanwhile, Gulf Coast inventories dropped to 15.6 million barrels on Feb. 7 compared to 35 million barrels at the same time last year.
Steps have been taken since then to boost supplies, especially in the Midwest. The Federal Energy Regulatory Commission directed Enterprise to prioritize propane shipments on the TE Products Pipeline to the Midwest and Northeast through Feb. 21. The Northeast also has supplemented its supplies with, ironically, propane imports from the high seas. And state and regional hours-of-service exemptions have enabled companies to source propane from other locations.
The winter of 2013-14 has left industry leaders to ponder the future in a new energy environment. NPGA has created a supply task force to examine the issues and determine a direction. Studies have been commissioned to examine the effects of propane exports and infrastructure changes. This appears to be only the beginning.
As Sloan said, "These factors will still be in play next year and the year after that."
Brian Richesson is the editor in chief of LP Gas Magazine. Contact him at brichesson@northcoastmedia.net or 216-706-3748.