Applications open for 2022-23 NPGF Scholarship Fund
The National Propane Gas Foundation Scholarship Fund (NPGF/SF) is kicking off its 2022-23 scholarship program on Dec. 15, 2021, with the application period running through Feb. 15, 2022.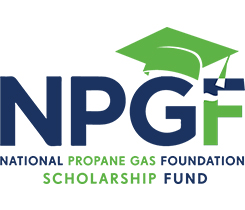 Children of employees of National Propane Gas Association (NPGA) member companies, state propane associations or the Propane Education & Research Council are eligible to apply. These children may be pursuing any course of study at two- and four-year colleges or technical, trade or vocational schools. NPGA encourages students pursuing propane-related careers especially to apply.
Each year, the fund awards $1,000 and $2,000 scholarships to more than 100 students. Since 1994, the scholarship fund has awarded more than $2 million to more than 1,400 children of NPGA member company employees. This year, NPGF has even more scholarships to award, thanks to the generosity of individuals and companies in the propane industry, NPGA adds.
Propane industry members can learn more about the scholarship opportunity on NPGA's website. The site includes frequently asked questions, information about 2021 scholarship recipients and a list of donors to the program. Interested members can apply here. For questions, contact scholarship@npga.org.
NPGA is the national trade association representing the U.S. propane industry. Its membership includes small businesses and large corporations engaged in the retail marketing of propane gas and appliances; producers and wholesalers of propane equipment; manufacturers and distributors of propane gas appliances and equipment; fabricators of propane gas cylinders and tanks; and propane transporters. With a membership of about 2,800 companies in all 50 states, 38 affiliated state or regional associations and members in 19 foreign countries, NPGA represents every segment of the propane industry.
Brian Richesson is the editor in chief of LP Gas Magazine. Contact him at brichesson@northcoastmedia.net or 216-706-3748.