Bergquist launches mobile online storefront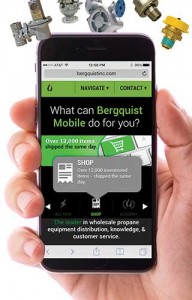 Bergquist launched a new mobile storefront version of its website, which provides customers with access to more than 12,000 products from smartphones, tablets and other handheld devices. The mobile site is designed to provide customers with easier access to both training tools and equipment.
Through the mobile storefront, customers can order products and check product availability, order history and invoices. They can also use the Bergquist Academy, which features training videos, product spec sheets, serviceman's guides and more, according to the company.
"We are committed to quality and convenience, and our mobile storefront is our way of letting our customers know that we understand their needs," says Don Montroy, director of marketing for Bergquist, in a press release. "It's but one of a number of new products and services Bergquist will be introducing in 2016 to help our loyal customers strengthen their business."
Photo: Bergquist
Allison Barwacz is the digital media content producer for LP Gas magazine. Contact her at abarwacz@northcoastmedia.net or 216-706-3796.