Commercial engines boast added versatility, enhanced features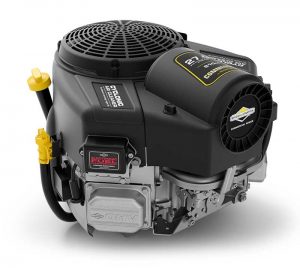 Briggs & Stratton introduced an upgraded and expanded line of Commercial Series V-Twin engines. The line now includes nine models, ranging from 16 to 27 gross horsepower with displacements of 656cc, 724cc or 810cc.
According to the company, its patented Integrated Cyclonic System offers unmatched air handling to help the Commercial Series stand up to demanding, high-debris applications. The engines come equipped with large cyclonic air cleaner filters that last for 250 hours of operation and require no tools to replace, the company adds.
The engines feature rotating debris-chopping screens, a series of baffles and an ejector chute. They also have commercial-grade liquid sump gaskets and a third dowel pin to ensure lasting seal at the sump joint.
"This line of engines has always been a great value and a bridge for those wanting to step up to commercial engines," says Jim Cross, marketing manager at Briggs & Stratton Commercial Power. "With the redesign, the line offers many premium features and components while maintaining a price point that makes it ideal for light-duty commercial applications. It's a versatile workhorse and our confidence in the reliability of this engine is evident in the new three-year commercial limited warranty."
The Commercial Series V-Twin engines come with a wide range of muffler options, as well as an expanded horsepower range that includes 16-, 18- and 20-gross-horsepower models with optional rewind start.
Photo: Briggs & Stratton

Allison Kral is the former senior digital media manager for LP Gas magazine.