CPGA, NMPGA name officers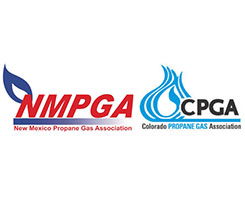 The Colorado Propane Gas Association (CPGA) and New Mexico Propane Gas Association (NMPGA) boards of directors elected their officers.
For the CPGA, Monte Vista Coop's Skotty Morris will serve as president; Hi Plains LP Service's Ray Martin will serve as vice president; Wallace Gas & Oil's Cathy Buxton will serve as treasurer; and Country Gas' Nathan Nicholson will serve as secretary.
For the NMPGA, Gallup Propane's Wendell Nicholson will serve as president; Cross Country Propane's Carl Fox will serve as vice president; and Country Gas' Lynne Dunson will serve as secretary and treasurer.
The CPGA, founded in 1950, aims to maintain high standards of practice within the industry, as well as protect and expand the ability of its members to compete in the marketplace. The mission of the NMPGA is to promote the proper handling and use of propane, to work for a favorable environment for propane distribution and marketing, and to spread its use by demonstrating propane's value as a clean energy source.

Allison Kral was a senior digital media manager at LP Gas magazine.