Empire Comfort Systems Inc.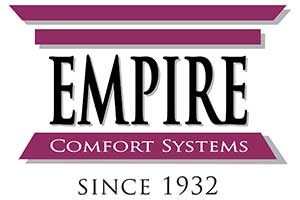 Empire has been family owned since 1932. The company provides a full line of U.S.A.-made gas-fired products for the independent dealer.
The Products – Affordable, Efficient, Artful Heating Solutions
Empire has a tradition of listening to dealers and their customers. From early floor furnaces (a forerunner to central heating systems) to console heaters and wall furnaces, to gas fireplaces and log sets, to outdoor fireplaces and fire pits, Empire has adapted to market requirements.
Our Continuing Mission
Empire is committed to building high-quality products that serve the consumers' needs and provide profitable sales opportunities for our distributors and dealers. We will back our products with thoughtful design, research and development practices. We back our customers with exceptional training and customer service support
Phone: 800-851-3153
Fax: 800-443-8648
Email: marketing@empirecomfort.com
Booth: 1011