In the Know: Boost sales of propane-powered appliances
In the Know is a monthly partnership between LP Gas and Propane Resources. Our focus this month is on increasing sales of propane-powered appliances, addressed by marketing and communications director Tammy Day.
---
QUESTION: How does a propane marketer capture increased sales of appliances?
ANSWER: The question may be a little misleading in that your company does not necessarily need to offer appliances to benefit from increased sales. The more propane appliances you can sell or entice your customers to buy elsewhere, the more gallons you can sell as well.
If you don't offer a showroom, or appliances in general, you can still promote the benefits of propane-powered appliances to your customers. Their purchase of propane-powered appliances – whether from you or another appliance sales outlet – mean increased gallon sales.
Because increased sales do not just drop in your lap, here are a few suggestions on how to improve sales of appliances and gallons:
Rebates: Increase appliance sales by promoting rebates offered by appliance manufacturers.
Tax credits: Many states offer tax-free weekends, weeks or even months. Increase appliance sales by letting your customers know about this bonus benefit.
Partnerships: Partner with a local company that sells appliances. You suggest the company to customers looking to purchase propane appliances while that company, in turn, suggests you as a propane supplier or service provider for its customers' new propane appliances.
Customer system safety/leak checks: In addition to taking general inventory of your customers' appliances during safety/leak checks, require employees to take note of the age and condition of the appliances as well. Follow-up calls or mailers can be made to promote new propane appliances to replace older, less-efficient appliances, especially if they're electric.
Customers going green or becoming energy conscious: When customers request information on the benefits of propane appliances, be prepared with backup information and statistics on the benefits and cost savings of propane appliances. Help your customers make the right choice with such appliances.
Customer/business management system: Keeping track of the age and type of appliances in your customers' homes should be required information to keep in your system. This is important documentation. It provides the information you need to send reminders to customers that it may be time to replace or upgrade old appliances.
New customer intake: Ask new customers about the appliances in their homes. Again, this practice allows you to market to these customers when it is time for them to consider replacing old, less-efficient appliances.
Online advertising: Take the opportunity to target specific audiences through Facebook, Instagram and other social media channels. These audiences can be as pinpointed as consumers who are actively searching for new or replacement appliances and using propane.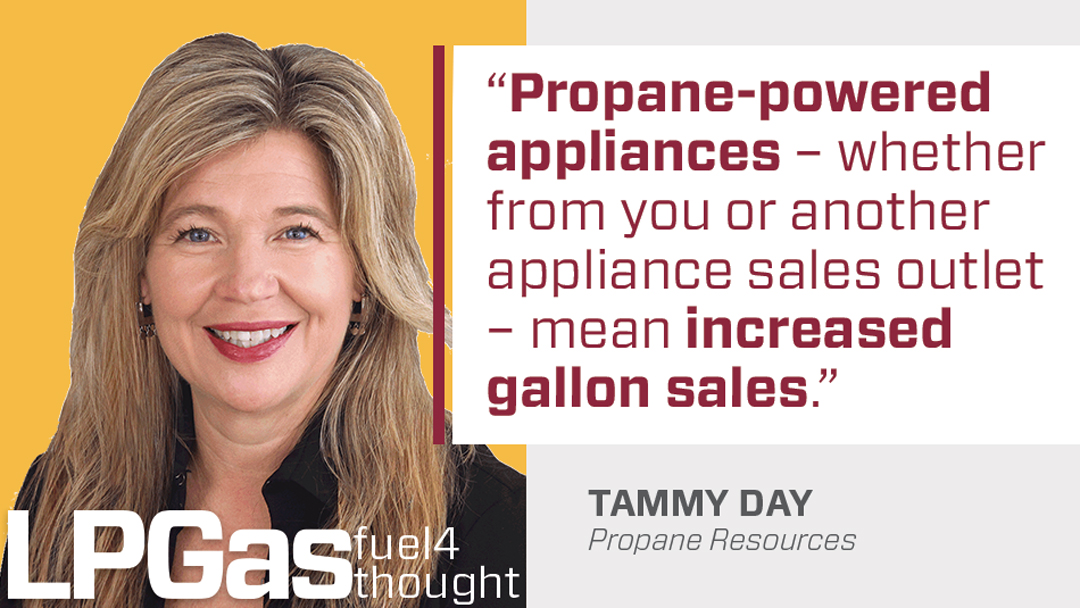 These are a few of many ways to increase sales. Not only do they work to increase sales of propane appliances, but they work for other aspects of your business.
---
Tammy Day is director of marketing and communications at Propane Resources.