In the Know: Controlling container costs
In the Know is a monthly partnership between LP Gas and Propane Resources. Our focus this month is on high steel prices and how propane retailers can adjust to better handle the cost of tanks, addressed by director of marketing Scott Slocum.
---
QUESTION: With high steel prices, how can propane marketers control the cost of containers?
ANSWER: Stratospheric steel costs have battered budgets for propane providers.
The pandemic caused many steel mills to reduce production or to shut down entirely two years ago. Steel prices in late spring of 2020 were about $440 per ton. By December of that year, steel prices had more than doubled to about $900 per ton. In March 2021, buyers were shelling out $1,270 for a ton of steel.
Manufacturers' costs for ASME and DOT tanks mirrored those price hikes, as they dealt with volatile steel prices, higher shipping charges and cost-of-living increases. Compare the price tag for a 500-gallon aboveground tank in early 2020 ($1,292) to a recent quote for a unit of the same size: $2,701 is fairly typical for a new tank.
The good news is that the price of steel stabilized and has begun to drop. It's reasonable to anticipate that tank prices may decrease within the next year.
Prospective propane clients are realizing, "Hey, winter's coming. We're going to need propane." Recent summer tank sets may have depleted providers' existing inventory, so can companies afford to continue setting tanks for new customers without digging deep for expensive new units?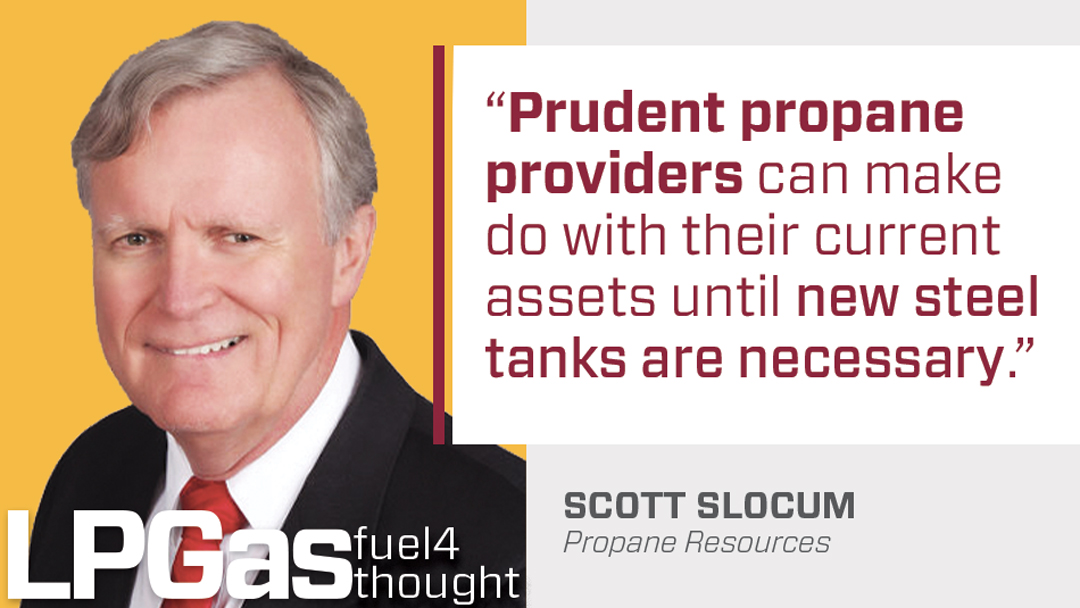 One of the best answers is: Yes – most companies own some unused or underutilized assets sitting in backyards, parking lots and perhaps even in their own tank yards. The key is asset inventory awareness.
The first stop should be the tank yard. Some of those old tanks, in usable shape with legible data plates, can be farmed out to qualified refurbishers, sandblasted down to bare metal, repainted and updated with new valves and fittings. This is one way operators can avoid paying for new, pricey propane vessels.
Assessment of propane sales to tank-renting customers might indicate that a tank is no longer in service, perhaps disconnected, sitting forlornly in weeds. Providers need to determine if that tank can be retrieved and reborn as a profit-making asset. The same goes for low-usage sites that are sitting on tanks much larger than needed. Higher-capacity tanks can be swapped out for smaller, more logical sizes. The big ones can be repurposed for high-volume users, where practical, to reduce the number of annual refill trips.
Prudent propane providers can make do with their current assets until new steel tanks are necessary.
---
Scott Slocum is the director of marketing at Propane Resources. He can be reached at scott@propaneresources.com or 913-262-3393.