Increases in US propane exports help balance markets
A report from the U.S. Energy Information Administration (EIA) examines U.S. propane's relationship with world propane prices and crude oil prices. That relationship has changed in recent years following the U.S. shale oil and gas production boom, which transformed the United States into a net propane exporter and created a new, plentiful and domestic source of propane for the U.S. market. What a drastic shift in propane supply dynamics for the United States.
Until 2010, the United States had been a net propane importer. As such, domestic propane prices were linked with international propane prices, which in turn are linked with crude oil prices. Between 1993 and 2005, the U.S. propane price at Mont Belvieu, Texas, averaged about 80 percent of the international crude oil price benchmark Brent on a dollar-per-barrel basis, according to the EIA.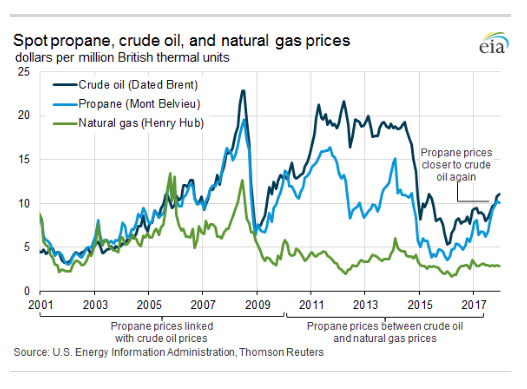 That playing field changed due to advancements in hydraulic fracturing techniques that allowed U.S. production companies to extend their reach for oil and gas resources. For several years, U.S. propane prices were significantly lower than elsewhere in the world because U.S. propane production had increased significantly, outpacing domestic demand and export capacity. In fact, between 2010 and 2017, U.S. propane production increased by 659,000 barrels per day (bpd) to 1.5 million bpd – about 80 percent coming from natural gas production and processing, the EIA reports.
The rapid increase in U.S. propane production swelled domestic propane inventories to record highs and contributed to the weakening link between propane and crude oil prices. Between 2010 and 2015, Mont Belvieu propane prices averaged only 46 percent of Brent crude oil prices on a dollar-per-barrel basis, the EIA says. The weakened link also resulted in U.S. propane being priced between Brent crude oil and Henry Hub natural gas prices for the past several years when converted to the same basis.
Sustained lower propane prices in the U.S. encouraged investments to expand export capacity – including to satisfy foreign investments in petrochemical facilities that use propane as a feedstock – and led to the eventual relinkage of U.S. prices with global markets.
Between 2010 and 2017, propane exports increased 796,000 bpd and averaged 905,000 bpd last year, according to the EIA. Interestingly, propane was the second-largest U.S. petroleum product export after distillate exports, surpassing motor gasoline. This export level was high enough to balance U.S. propane markets and reestablish their link with Brent crude oil and international propane prices.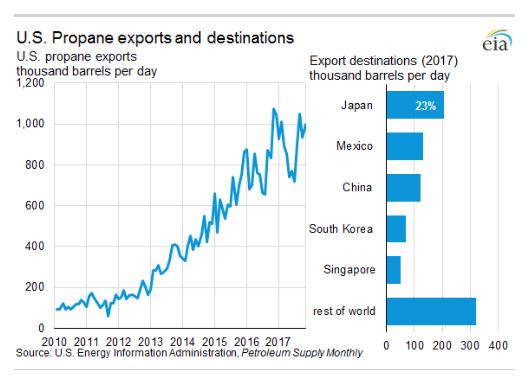 Since late 2017, U.S. propane prices at Mont Belvieu have been more closely linked with crude oil prices – with U.S. propane prices averaging 62 percent of Brent crude oil prices in December, according to the EIA. The difference between U.S. propane prices and the Saudi Aramco Contract price, the main international propane price benchmark, also narrowed from a discount of more than $1 per gallon in 2012 to an average discount of 13 cents per gallon in 2017.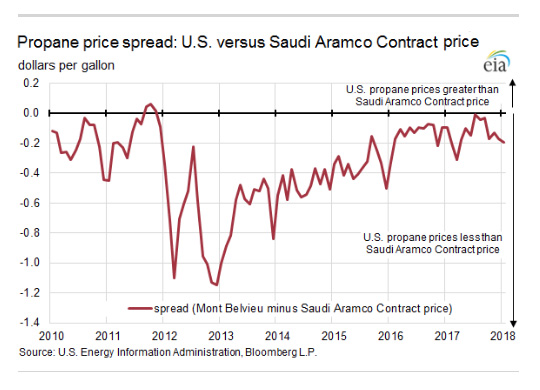 EIA expects this price spread to widen when U.S. markets become oversupplied or when international markets have increased demand for U.S. propane and to narrow when U.S. demand for winter heating increases or international demand for propane declines.