Lehr looks to sea for market opportunity
Bernardo Herzer skippered a yacht by the time he was 17 years old and he sailed around the world at a young age. Herzer has spent much of his life at sea, in fact, and as a member of the marine community propane is one fuel with which he's quite familiar.
The collective marine community also understands propane well, Herzer says. Boaters have been using propane for years to cook, heat or provide light at sea. Many boaters already know where they can buy propane, he adds, and the collective group is concerned about the well-being of the marine environment.
So as Herzer sees it, now is the time to develop propane as a motor fuel for the marine community and introduce engines that can propel boats. Herzer, the founder and CEO of Lehr Inc., has already taken the first step with his own product introductions, bringing the first commercially available series of outboard engines fueled by propane to the market.
The 2.5- and 5-horsepower models, which can be fueled by a 1-pound camping bottle or connected to a remote 20-pound barbecue cylinder (or a lighter composite cylinder), were introduced at the 2012 Miami International Boat Show back in February. The engines won West Marine's Green Product Contest at the show, and Herzer says the two models are just the beginning for a market that can be much bigger.
"This is opening a whole new industry for propane marketers," he says. "My vision is to take our products and the larger engines we have coming so that all the lakes, rivers and inland waterways and marinas for the ocean inlets are able to sell propane into what is a very large marine industry."
Already buying in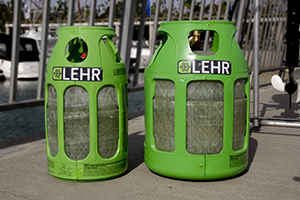 Roger Moore, who manufactures his own line of boats called Advanced Inflatables in Dania Beach, Fla., also sees advantages of propane motors. Ideally, Moore would like to see 15- to 20-horsepower engines developed that can cover the full range of boats he sells, but the Lehr models are a step in the right direction.
Propane is ideal as a motor fuel, Moore says, because of the many issues boaters have experienced with ethanol.
"What ends up happening with these gas-powered outboards is the ethanol gums up the carburetor," he says. "Or, even without the ethanol, you still get a mess. So the idea of a propane motor with no choke, simplicity of operation and no deposit in the carburetor makes for a wonderful product."
The mess Moore refers to is the one commonly made on boats because of gasoline spillage.
"A lot of small 2.5- or 5-horsepower motors will have an internal fuel tank right on the motor," Herzer says. "If someone wants to take that motor off the stern of their boat, then all of a sudden they have an issue with the gasoline spilling out of the tank. Or if they take it below, it stinks up the boat.
"With propane, you don't have any of those issues. There's no possibility of any leaks or spillage or smell from the fuel."
Herzer also agrees with Moore that carburetor issues with existing outboard engines created an opening for propane. Yet another advantage Herzer says propane offers boaters is virtually no particulate matter.
"One of the things that is not well known is that outboard motors produce particulate matter," Herzer says. "When it hits the salt water, it turns into ethyl mercury, and that mercury ends up in the fish. For EPA standards, we're at zero. We've got a fuel that's not a marine pollutant that can get in the water. It stores indefinitely and, of course, it's domestically produced."
Weight is another issue that can be problematic for those wanting to improve their boat's performance. But because a gallon of propane (4.2 pounds) weighs less than a gallon of gasoline (6.2 pounds), a propane-powered engine has the ability to outperform its counterpart. Propane tanks don't have to be as massive as gasoline tanks, either, so there's additional weight lost and further performance improvements.
"Boats are always going uphill, always pushing the water," says Herzer, who adds that one gallon of propane can power a 2.5-horsepower outboard for as long as four hours and a 5-horsepower outboard for up to two hours.
"With these smaller motors, you won't notice a huge difference, but there is a difference."
What's next?
These first Lehr engines are designed to be user friendly, but as Lehr or other boat motor manufacturers venture into larger propane engines, additional service will have to be provided somewhere. And that's where retailers like Advanced Inflatables' Moore see an opportunity.
"I told Bernardo I would like to become Lehr's South Florida service center, invest in getting staff trained and put in a 1,000-gallon propane tank," Moore says. "My desire is not just to sell motors and propane, but bring them by my shop so they can see everything we have."
Moore has already sent one staff member to "propane school" to become a licensed dispenser. Herzer sees opportunities far beyond South Florida.
"We're nationwide and in Canada, and we're going to be launching in Europe as well," Herzer says. "Having the customer service and sales support in place is what develops a market. Lehr has built quite a strong infrastructure for sales and support since the company was founded in 2007."
Kevin Yanik was a senior editor at LP Gas Magazine.