Light-duty pickup runs on propane, CNG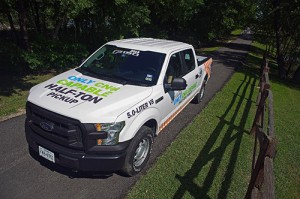 Ford's 2016 F-150 with a 5.0-liter V8 engine will offer a gaseous-fuel prep option, making it the only light-duty pickup that can run on propane or compressed natural gas (CNG), according to the company.
"We surveyed customers likely to use natural gas or propane, and 72 percent told us they want to have alternative-fuel capabilities on the F-150 with the 5.0-liter V8 engine," says Jon Coleman, Ford fleet sustainability and technology manager, in a press release. "We expect the gaseous-fuel prep package will be even more popular than it was on the 2014 F-150 with the 3.7-liter V6 engine, given the capability of the 2016 F-150 5.0-liter V8."
The 2016 F-150 will be available to order this summer with a factory-installed, gaseous-fuel prep package that includes upgraded intake and exhaust valves and valve seats, the company says.
Ford has sold about 57,000 vehicles that run on propane and CNG since 2009. It sold about 17,000 commercial vehicles with propane/CNG gaseous engine-prep packages in 2014, the company adds.
Photo: Ford