Make way for the 10th class of the LP Gas Hall of Fame
The 10th class of the LP Gas Hall of Fame will be honored April 22 at the Omni Nashville Hotel in downtown Nashville, Tennessee.
LP Gas launched the Hall of Fame in 2012 as a way to honor the industry's legends, icons and leaders, who are chosen by an anonymous selection committee composed of different segments of the propane industry. The committee receives nominations throughout the year. An induction dinner has been held annually except for two years impacted by the COVID-19 pandemic. The event serves as a propane industry celebration of past and present leaders, who gather on the eve of the National Propane Gas Association's Southeastern Convention & International Propane Expo.
This year, LP Gas will honor a state propane association executive (Steve Ahrens), industry consultant (Tom Jaenicke), entrepreneur (Billy Prim) and independent marketer (Don Schultz).
Learn more about this year's inductees:
For more about the LP Gas Hall of Fame, visit lpgashalloffame.com.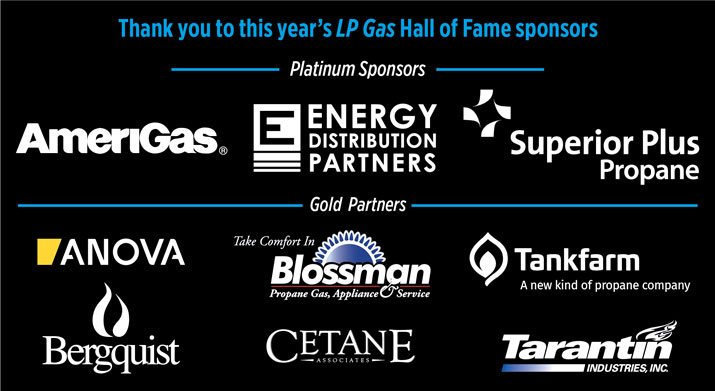 ---
LP Gas Hall of Fame
CLASS OF 2023
Steve Ahrens, Missouri Propane Gas Association
Tom Jaenicke, ATomiK Creative Solutions
Billy Prim, Blue Rhino
Don Schultz, Schultz Gas Service
CLASS OF 2022
Doug Auxier, Auxier Gas
Richard Barker, Silgas
Nancy Coop, Cetane Associates
Joe Rose, Propane Gas Association of New England
CLASS OF 2019
Ramon González Sr., Empire Gas Co.
David Lugar, AmeriGas
Bill Mahre, Propane Technical Services
Ray Murray III, Ray Murray Inc.
CLASS OF 2018
Bill Clark, Butane-Propane News
Elbert "Al" Linder, Coast Gas
Stuart Weidie, Blossman Gas
Roy Willis, Propane Education & Research Council
CLASS OF 2017
John D. Capps, National LP-Gas Association
Theodore Lemoff, National Fire Protection Association
Darrel Reifschneider, Manchester Tank
William Young, Superior Energy Systems
CLASS OF 2016
Bill Byrne, Warren Petroleum Co.
Robert Y. Love Sr., Lampton-Love Inc.
Daryl McClendon, DFM Enterprises
Thomas Nunan Jr., Suburban Propane
CLASS OF 2015
James E. Bertelsmeyer, Heritage Propane
Stewart Kean, Utility Propane Co./World LPG Association
Glenn Miller, Miller's Bottled Gas
Charles Revere, Revere Gas
CLASS OF 2014
Casey Jarvis, Jarco Inc.
William B. McHenry, Pro-Gas Sales & Service Co.
Daniel N. Myers, National Propane Gas Association
J. Charles Sawyer, Sawyer Gas Inc.
Dwain Willingham, Propane Resources
CLASS OF 2013
Eugene V.N. Bissell, AmeriGas
Ronald "Zane" Chastain, LP Gas magazine
William C. Hill, Pargas
Herbert V. Hills, Imperial Machine Products Co.
Walter H. Johnson, Liquefied Petroleum Gas Association
Robert B. Nicholson, Eastern Propane Corp.
CLASS OF 2012
Mark Anton, Suburban Propane
John Blossman, Blossman Gas
James Ferrell, Ferrellgas
Sam McTier, McTier Supply Co.
Robert Myers, Petrolane Inc.
Walter Snelling, American Gasol Co.
Milford Therrell, Squibb-Taylor Inc.
H. Emerson Thomas, Continental Tank Car Co.
John Wallace, Petrolane Inc.