New propane partnership expands first responder training opportunities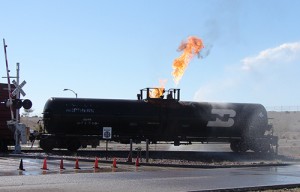 The Propane Education & Research Council (PERC) partnered with the International Association of Fire Chiefs (IAFC) to reformat PERC's Propane Emergencies training program onto the IAFC website and promote it to thousands of first responders.
Stuart Flatow, vice president of safety and training for PERC, says IAFC is the first national association with which the council has partnered to advance first responder training. PERC already partners with state associations to host industry responder conferences and train first responders on propane emergencies.
"PERC has, for a long time, wanted to partner with IAFC and large firefighter organizations," Flatow says. "We believe this partnership will effectively reach thousands of first responders that we might not be able to get to otherwise."
IAFC reports the online program will be especially beneficial to volunteer, combination and fire-brigade first responders who might not have the time or resources to receive instructor-led training on propane properties.
PERC provided $219,417 to help IAFC develop a two-hour Propane Emergencies course on the IAFC Academy website and promote the program at fire service industry conferences. Propane Emergencies is a training handbook that was developed in 1998 to educate first responders on how to handle propane-related incidents.
Richard Miller, IAFC program manager, says IAFC released a similar website several years ago to train first responders on hydrogen emergencies.
"Our goal for that site was to get 1,000 people to take the course, but we had around 8,000 people take it," he says. "Our pilot project with the hydrogen training site showed us the fire service needs these training materials for continued education in a flexible format."
Miller anticipates about the same number of first responders to show interest in the propane curriculum through IAFC's platform. If the online course can lead first responders to take a hands-on propane emergencies class, the partnership has achieved its mission of furthering the education for fire service personnel, he adds.
"We determined what they need to know about propane as a hazard," Miller says. "By no means can every responder just sit, take this online class and be fully capable to take on one of these emergencies, but it's background education."
Miller says IAFC plans to promote the online learning platform at its annual conference and expo this month.
Photos: PERC / IAFC