Prairieland FS educates Illinois on autogas benefits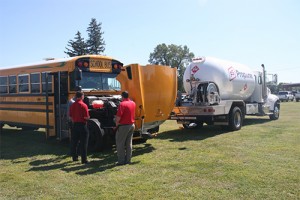 Prairieland FS Inc., an agricultural and energy supplier in the Growmark system, hosted an educational event in Jacksonville, Ill., to educate Illinois municipalities, school districts and fleet operators on the benefits of propane autogas.
Prairieland FS showcased a number of autogas-fueled vehicles to attendees at the event. Additionally, representatives from both the city of Springfield, Ill., and the Olympia School District in McLean and Tazewell, Ill., counties shared their experiences in converting city and school vehicles to autogas.
Other representatives from Central States Bus Sales, Icom North America LLC, Dealers LP Equipment, Ray Murray Inc. and the Illinois Propane Gas Association attended the event.
Photo: Praireland FS Inc.