Propane industry consulting business launches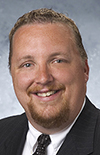 Joe Stariha, former co-president and chief financial officer of Como Oil and Propane, launched Propane Strategies LLC, a new business venture to help the propane industry.
"I founded Propane Strategies this past fall to help business owners in the propane industry improve their operational and financial performance," Stariha says in a press release on Business North, a business publication for northern Minnesota and Wisconsin. "I am able to put my expertise to work and help business owners see the results in their bottom line very quickly."
Some of Propane Strategies' services include strategic planning, budgeting, BRITE software training, software system selections, propane supply strategies, project management and business valuations.
According to a press release, Stariha began his career with Como Oil and Propane as an accounting manager in 1996, and the company promoted him to serve as its co-president and CFO in 2010. During his time with Como Oil and Propane, Stariha helped with 17 acquisitions.
Photo: Propane Strategies LLC