Propane Personality: Angela Branchi
Angela Branchi
Senior Vice President of Strategic Growth and Business Development, Grammer Logistics
WORK EXPERIENCE
April 2019-Present
Grammer Logistics
⦁ Senior Vice President of Strategic
Growth and Business Development
⦁ Senior Vice President of NGL Operations
2012-19
Sterling Transport
⦁ COO
2005-12
Werner Transportation Services
⦁ Business Development Manager
1988-2005
AmeriGas
⦁ Area Transportation Manager
Dedicated to customers' experiences
"As SVP of strategic growth and business development, I'm responsible for developing customer-specific solutions across our portfolio of product lines, services and regions. My position is heavily focused on ensuring our customers have a positive experience with Grammer at every touch point. To do so, I lead a team of business development professionals, providing them resources and support in order to meet our customers' needs."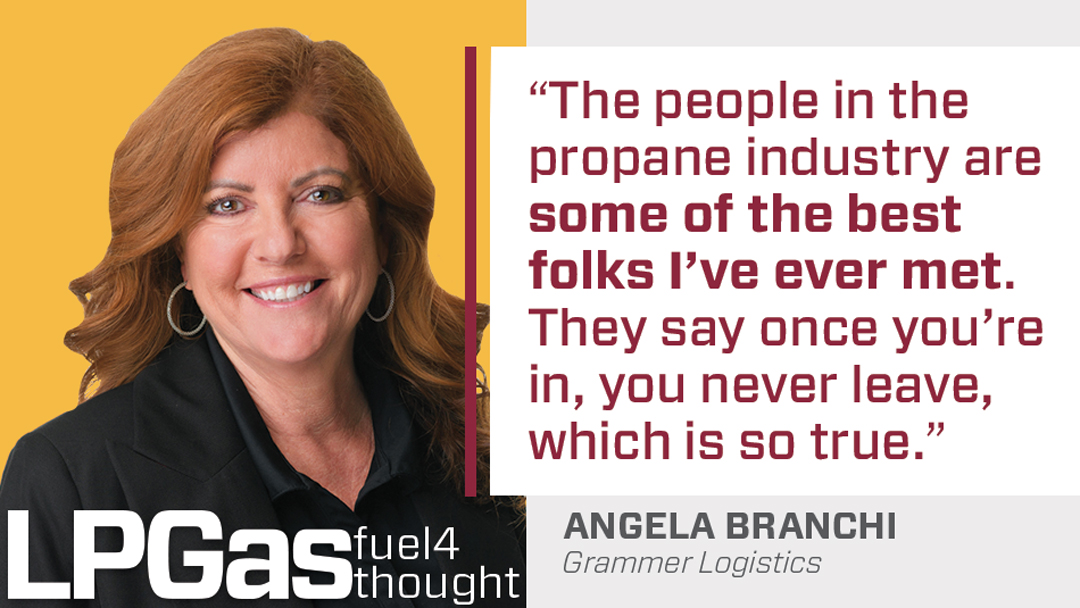 Transitioning amidst a transaction
In 2019, Grammer Logistics purchased Sterling Transport, a logistics company that employed Branchi as COO for seven years. After the transaction, Grammer Logistics offered her the opportunity to oversee more than 250 drivers, along with operation services, as senior vice president of NGL operations. She held that role until 2021 when she transitioned to a full-time focus on business development upon accepting the role of senior vice president of strategic growth and business development.
The latest at Grammer Logistics
In 2022, Grammer Logistics appointed transportation industry veteran Scott Dobak as CEO. Additionally, Grammer acquired Baton Rouge, Louisiana-based Logistics Management Resources, a bulk liquid and chemical logistics specialist. At the same time, Grammer has further enhanced its training and development with regards to serving customers' needs.
"We continue to focus on training each of our employees on customer service best practices, which will help differentiate our organization in a crowded marketplace, particularly through communication and a solutions mindset," Branchi says.
Family time
When Branchi isn't working, she's typically spending time with her husband, Christian, and visiting their two children, Nicholas and Samantha. "Family time is precious. We're both Italian, so everything we do is centered around family."
Implementing Electronic Data Interchange (EDI)
"Grammer is always on the forefront of technology, including offering various forms of tracking, tracing, reporting and EDI, a process that allows a company to send information to another company electronically rather than using paper. This helps save time and eliminate costly errors caused by manual processes. We're excited to bring EDI to the propane industry."
Building relationships
"I never planned on a career in logistics, but, luckily, I found myself in this industry. For success in the logistics industry, it's paramount to build relationships. The people I've met, the countless drivers I've worked with and the long-lasting friendships I've built have allowed me to stay in this industry for over 35 years."
Leadership involvement outside of Grammer Logistics
Branchi was recently appointed as the National Propane Gas Association's transportation and storage section director. Aside from this role, she's also involved with the Women in Trucking Association and the Women in Propane Council (WIP). Branchi serves as a mentor with the WIP, enabling her to share the knowledge she's acquired over the past 35 years.
Lifelong relationships
"The people in the propane industry are some of the best folks I've ever met. They say once you're in, you never leave, which is so true. It's a very niche industry, and I've had so many lifelong relationships with many propane professionals."