Propane Personality: Jacob Peterson
Jacob Peterson
Director of State Advocacy and Affairs, National Propane Gas Association
EDUCATION
University of Minnesota Duluth
Bachelor of Arts in Criminology and Political Science
Class of 2011
WORK EXPERIENCE
August 2018-Present
National Propane Gas Association
⦁ Director of State Advocacy and Affairs
⦁ Senior Manager of External Affairs
November 2011-May 2018
U.S. House of Representatives
⦁ Senior Legislative Assistant
"I'm focused on helping advance the propane industry's interests across the U.S., which includes everything from legislative, to political, to regulatory issues that impact propane's current and future market share."
Daily tasks at the National Propane Gas Association (NPGA)
As the director of state advocacy and affairs for the NPGA, Peterson leads the association's efforts to pursue positive legislative and regulatory outcomes at the state level. To do so, he engages on legislative, political and regulatory issues – at both the state and local level – that influence the propane industry.
"I work hand in glove with state association executives to help move the industry forward outside of Washington. This includes responding to state bills, executive orders and regulatory actions from state agencies and commissions."
Peterson is also the staff liaison for NPGA's Distributors Section, and he leads the State Affairs Task Force.
"Both of these industry subgroups allow me to directly engage with members in the field and explain how state actions impact their business operations."
Growing up with propane
"While growing up, my family was a retail propane customer in both Wisconsin and Minnesota. So I already understood its applications, as well as the important role the propane industry plays, which contributed to my desire to work for the NPGA."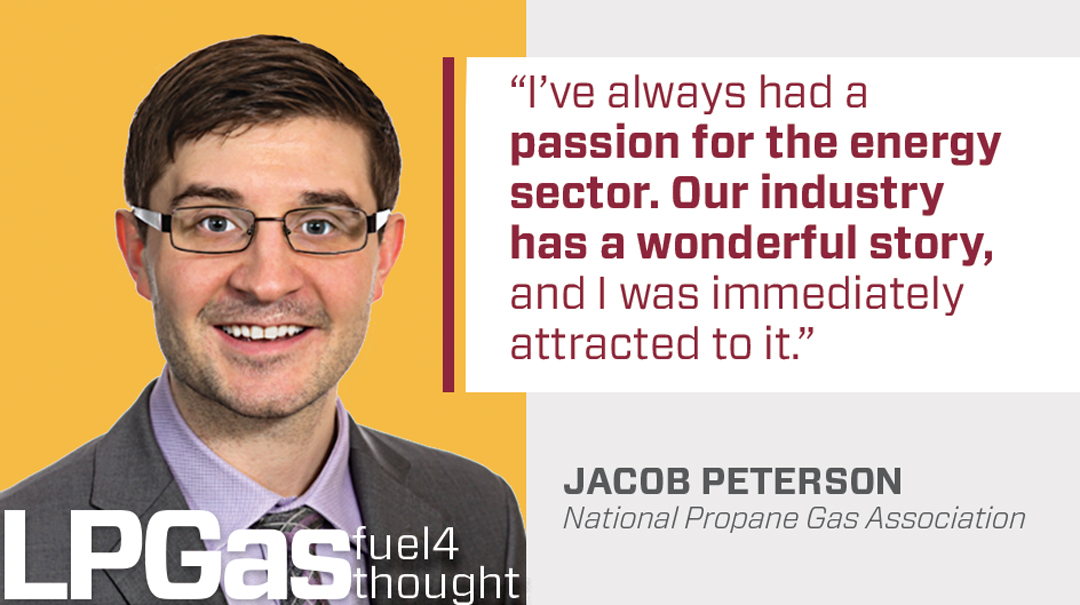 Firsthand experience in D.C.
Prior to accepting an opportunity to serve NPGA as the senior manager of external affairs, Peterson acquired firsthand political experience in Washington, D.C., while working as a policy staffer in the U.S. House of Representatives. During his time in D.C., he focused on energy and environmental issues.
"I've always had a passion for the energy sector. Given the NPGA's presence on Capitol Hill, I was already familiar with the association and many of their issues. Our industry has a wonderful story, and I was immediately attracted to it."
Site visits
During Peterson's first year with NPGA, he visited six different member companies to see their facilities, learn more about their operations and better understand their needs.
"It was very worthwhile. I highly recommend site visits to everyone in the industry that's able to participate in them."
Propane's competitors
Aside from earning his bachelor's degree from the University of Minnesota Duluth, Peterson also completed courses at New Mexico State University about utility ratemaking for the natural gas and electric industries – each of which compete against propane in various arenas.
According to Peterson, NPGA is countering present-day electrification efforts while also ensuring the propane industry has a level playing field as it competes against other energy sources.
Hobbies
Peterson loves to run outdoors while listening to podcasts, which he considers "a nice break from the daily grind and, to a degree, therapeutic."
Plus, he's a diehard Green Bay Packers fan, as evidenced by his role as a shareholder and owner: "I also have made it a priority to ensure propane forklifts remain omnipresent at Lambeau Field," Peterson jokes.