Propane Personality: Trent Hampton
Trent Hampton
CEO, Lakes Gas
EDUCATION
Creighton University School of Law
Doctor of Law
Northwest Missouri State University
Bachelor of Science in Business Administration in Accounting
WORK EXPERIENCE
May 2019-Present
Lakes Gas
⦁ CEO
November 2001-December 2018
Ferrellgas
⦁ Senior Vice President and COO
(May-December 2018)
⦁ Senior Vice President, Legal and Risk Management
(February 2013-May 2018)
⦁ Vice President, Legal and Risk Management
(June 2006-February 2013)
⦁ Corporate Counsel
(November 2001-June 2006)
Daily tasks at Lakes Gas
As CEO, Hampton's primary responsibility is to hire and retain top talent that will represent Lakes Gas, and then reward them for their hard work. From there, Hampton collaborates with employees on strategy and provides them the resources they need – from assets and information to training and support – to serve the propane retailer's customers and meet its strategic goals.
"We have 54 staffed offices in our region so that our customers can always speak to a qualified, helpful representative in their community when they need our service. We want to be available to our customers however they want to contact us, whether in person, by phone at a local office or online."
Recent acquisitions
During the past 18 months, Lakes Gas completed four acquisitions: two in Wisconsin (Hohl's Propane and Van's Gas Service), one in northern Illinois (Blackhawk Propane) and one in North Dakota (Foss-Johnson Oil).
"We anticipate completing several more acquisitions in the next year. We remain committed to the communities where we acquire companies, and we strive to provide owners the ability to sell their businesses without having their family's legacy dissolved into a large company."
Leadership beyond Lakes Gas
Hampton serves on the National Propane Gas Association's (NPGA) board of directors as an at-large director. He is also a councilor on the Propane Education & Research Council (PERC).
"The propane industry is brimming with wonderful, kind and smart people. I cherish the relationships I've developed through my involvement at NPGA and PERC, as well as the state and national conventions. I'm excited about the future of our industry, as it has so many intelligent and passionate people."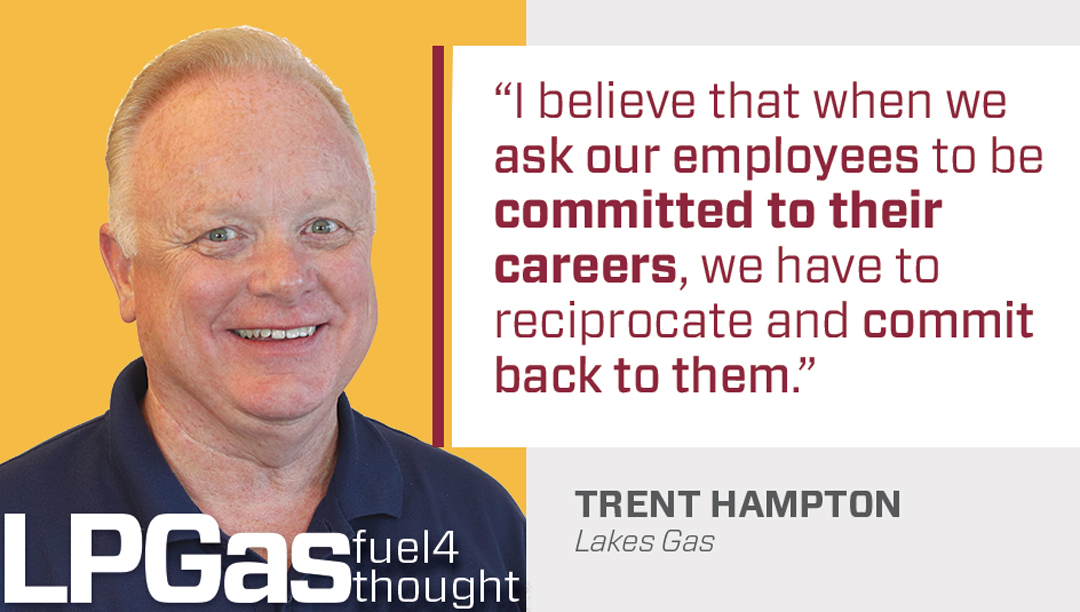 Leadership advice
Hampton advises his son, Matt, and other aspiring business leaders that adaptability and gratitude are key skills – not only in business but also in life.
"I believe that when we ask our employees to be committed to their careers, we have to reciprocate and commit back to them. Our commitments have to include job security (if earned), building a culture of trust and participation, and providing a work-life balance for them and their families."
Customers come first
"The propane industry has so much new technology, equipment and data available to us. But we can't forget that our customers' needs have not changed. They deserve on-time service, fair prices and someone to answer the phone when they call, preferably someone local. When we lose sight of that, we do a disservice to our customers, our companies and the industry."
Relocating to Minneapolis
"When the Lakes Gas board of directors hired me to be CEO, my wife, Janet, and I relocated from Kansas City to Minneapolis. I was very honored by the opportunity to accept a leadership position at a very successful, family-owned business and carry on founder Howard Sargeant's legacy. Minneapolis is a beautiful place to live, and that was a factor for Janet and me."
Future goals
Hampton, along with the Lakes Gas board of directors, wants to build on the Sargeant family's success while ensuring the company is growing continuously and responsibly within its current service area and adjacent markets.
Hobbies
Since Hampton lives in the "Land of 10,000 Lakes," he often can be found on a boat during weekends in the summertime. When he's not boating, he hikes and plays golf – two hobbies he has enjoyed for years. And when he's able, he'll travel internationally with his wife and son, preferably at least once a year.