Propane prices driven down by inventory build
Weekly estimates from the Energy Information Administration show a robust U.S. propane export market. Exports have been above a million barrels per day (bpd) for 14 straight weeks, averaging 1.194 million bpd during that time.
However, over that same 14 weeks, propane production has averaged 2.072 million bpd. In addition, propane imports have averaged 135,000 bpd. That means there has still been 1.013 million bpd of supply for meeting domestic demand.
There has only been 760,000 bpd of domestic demand over that period, leaving 253,000 bpd to store. That has provided an average inventory build of 1.771 million barrels per week. The result is an inventory build that has been about 5.2 million barrels more than the same 14-week period last year. The higher inventory build has driven down propane prices.
This year's inventory build has been about 371,000 barrels per week more than last year. Enterprise Products Partners will add 175,000 bpd of propane/butane export capacity by the end of the year. If we assume half is used for propane, it represents the potential to increase exports by 612,500 barrels per week. Assuming the world demands enough propane to use the capacity, the additional exports would take the downward pressure off propane prices.
We believe this prospect is leading to the wide gap between current month and core winter propane prices that is being seen now. Mont Belvieu LST core winter is trading 9.5 cents higher than July, and Conway winter is trading 20 cents higher than July.
Whether front-month propane prices start moving toward core winter values, or whether core winter values move down toward current front-month values between now and winter, could largely depend on how effective the new export capacity will be in balancing U.S. supply and demand.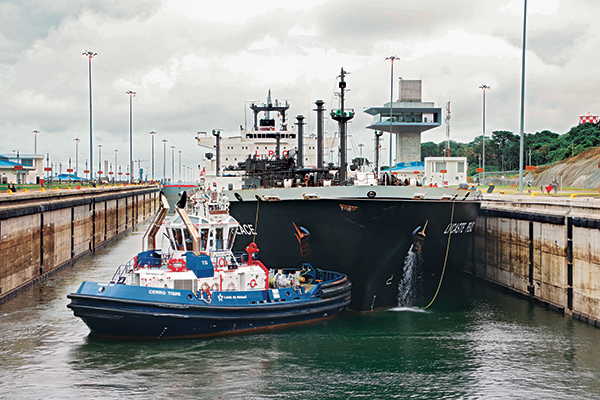 Click to enlarge. Image: Panama Canal Authority
Propane supply updates from LP Gas:
More propane transiting expanded Panama Canal
The flow of hydrocarbon gas liquids through the Panama Canal from the U.S. Gulf Coast to Asia has increased since the canal expanded in 2016.
3Eight Energy to help propane retailers build supply partnerships
3Eight Energy is a new wholesale and consulting company focusing on the independent propane retailer in the Southeastern and Mid-Atlantic states.
UP Energy Task Force to devise propane plan
Michigan's new administration is exploring alternatives to propane distribution through Enbridge's Line 5 pipeline.
---
Call Cost Management Solutions today for more information about how Client Services can enhance your business at (888) 441-3338 or drop us an email at info@propanecost.com.